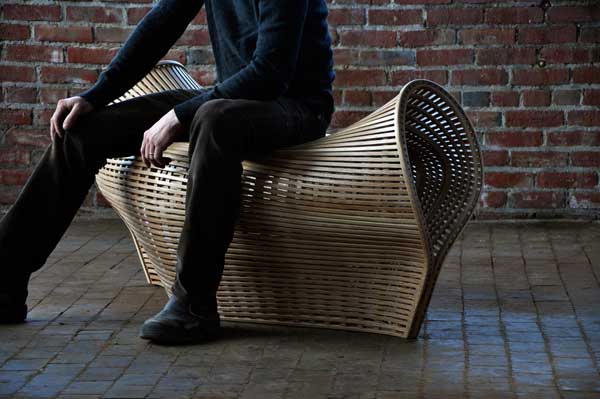 Articles about unusual furniture are not uncommon, and today a popular resource Design of kitchen interiors offers to look at a modern chair, but according to an old "recipe". Bent furniture has always been a sign of good taste and attracted attention with its strength and elegance.
In the manufacture of such furniture always use special high-quality natural materials.
This option has rounded corners and smooth lines, and according to the feng shui system it creates – harmony in the house. An unusual piece of furniture that was assembled by hand, represents Matthias Pliessnig – Pinch chair. It is made of wood with special care.
Technique of execution resembles the design of water transport The same curved lines, like the boat.
The size of the chair 58x31x27 and its name "Back to back" show how unusual the idea of ​​the designer. When developing a chair, white oak stripes were used, and this is already an indicator of its strength and durability.
If you are interested in the price of an elegant interior decor item, then it is $ 16,000, so before you buy such a thing, find a place for it in the house.