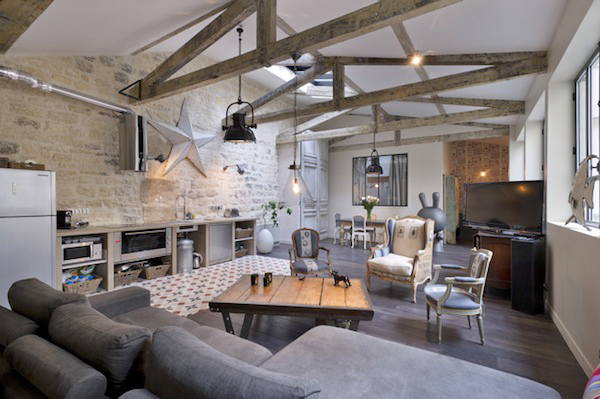 Today we will introduce you to the ultra-modern trend – industrial design. Main feature industrial design is that it is actively used all kinds of unfinished or raw elements, which many of us would prefer to hide.
It is used in loft apartments, modern homes around the world. Its characteristic features are: neutral tones, utilitarian objects, as well as metal and wooden surfaces.
Many designers use elements of industrial style in their creations, for example, stainless steel, metal lamps and antique furniture appear in homes. Such companies as Restoration Hardware contribute to cultivate a deep love for industrial design.
Today, the transformation of former industrial facilities (for example, factories) to residential establishments has become popular, leaving behind some unfinished and protruding elements that remind the owners of the original purpose of the building.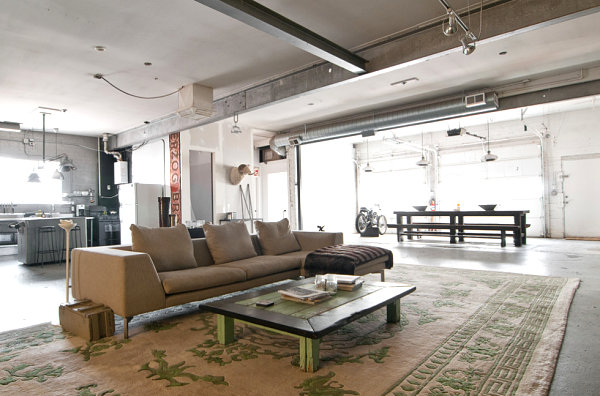 More and more becoming enthusiastic designers looking for or creating "unfinished" elements in the interior.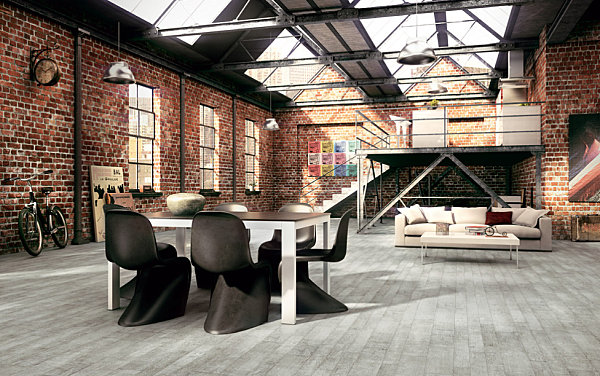 Bare pipes can be an excellent solution for all bright places, as the brightness of the walls and ceiling create a sharp contrast to the metal pipeline, as shown below.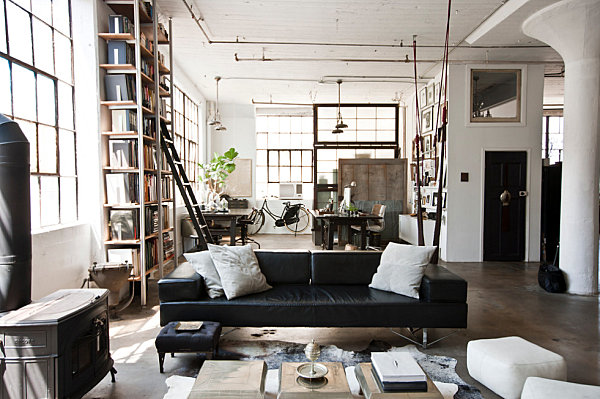 Along with metal pipes and channels, the presence of metal on the walls and doors is another key feature of industrial design.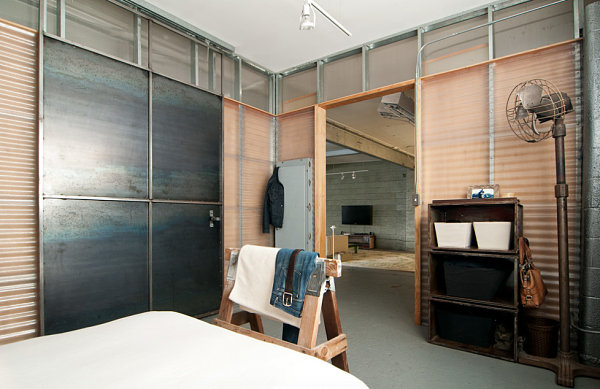 For special connoisseurs of industrial design, there is a special furniture consisting of pipes. For example, this marine-style shelf system made of metal shelves and tubes.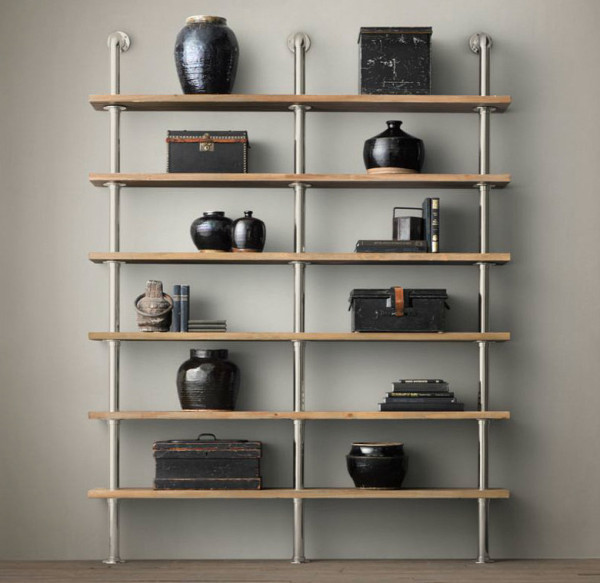 In industrial design you can find a lot of metal and wooden objects. This is not surprising, since natural and neutral tones are the most popular.
In the next picture we see the abundance of metal on the ceiling, stairs and windows.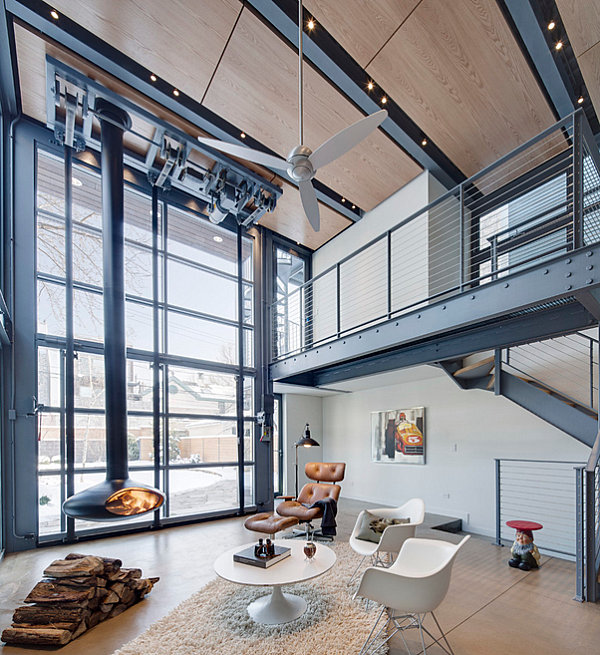 Wooden table with metal chairs. Open pipes and air ducts.
Kitchen, made of metal with stainless steel. These elements of industry combine to create an amazing atmosphere, which you can observe below: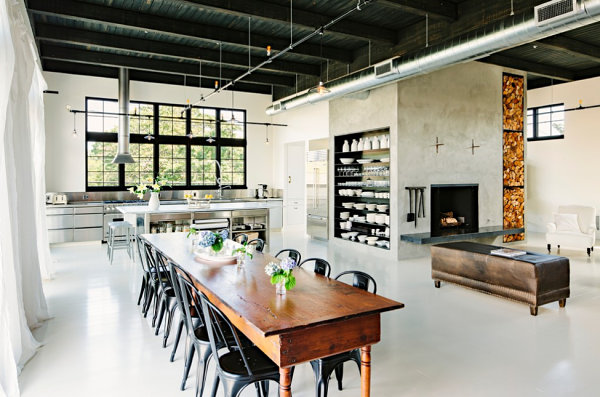 In the next photo of the same house we can see the machined engine hood, stainless steel and open channels. This functional approach is undoubtedly very stylish.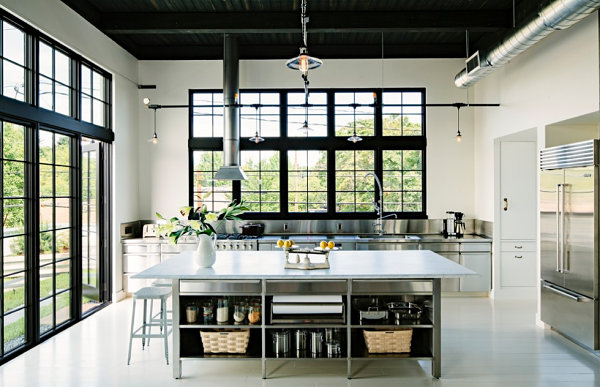 Stainless steel surface in industrial kitchen
We often see wood and metal in other rooms, as shown in the image below.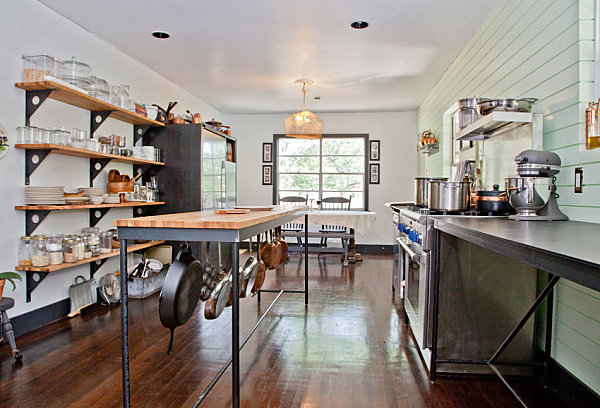 Designers often try to combine metal objects with gray. For example, the bathroom is decorated in the picture below: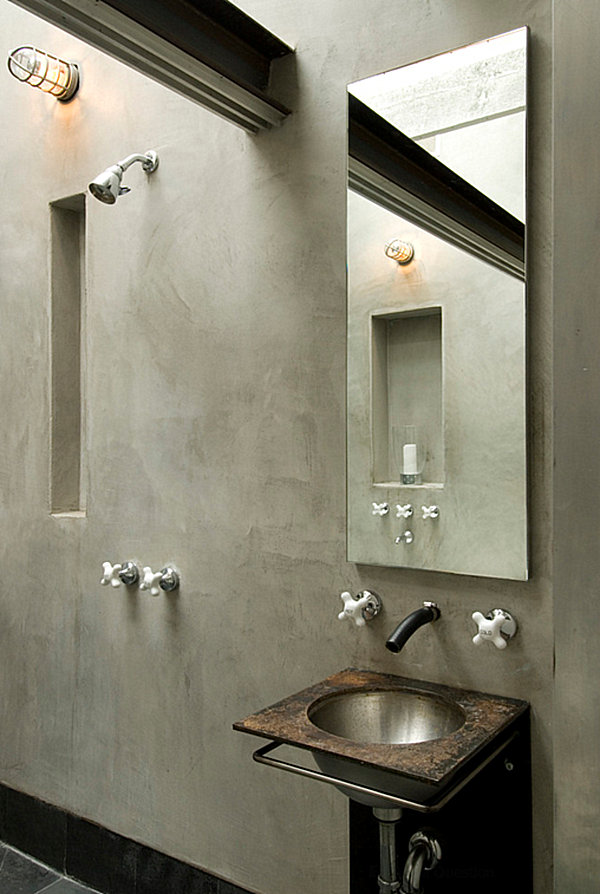 Let's talk about furniture now. As we know, industrial design involves the widespread use of wood and metal. It is the combination of these materials that form the basis for creating furniture in this style.
Many of these things are truly vintage, while others are stylized to use factory or laboratory parts. Notice how the bar stools from the image below fit perfectly into the surrounding space.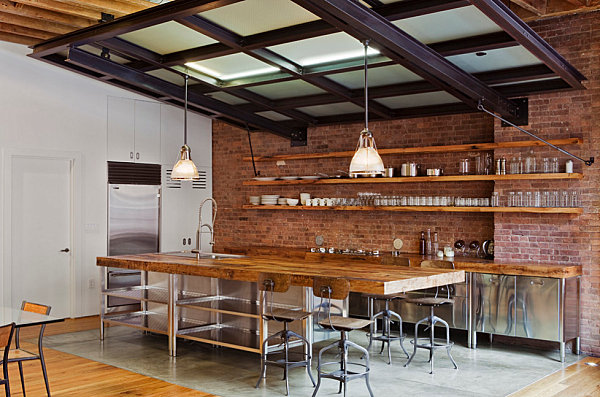 As we mentioned, manufacturers like Restoration Hardware try to popularize industrial design with the help of new items that resemble the past. Below we see vintage chair in green drapery, reproduction of the famous retro chair.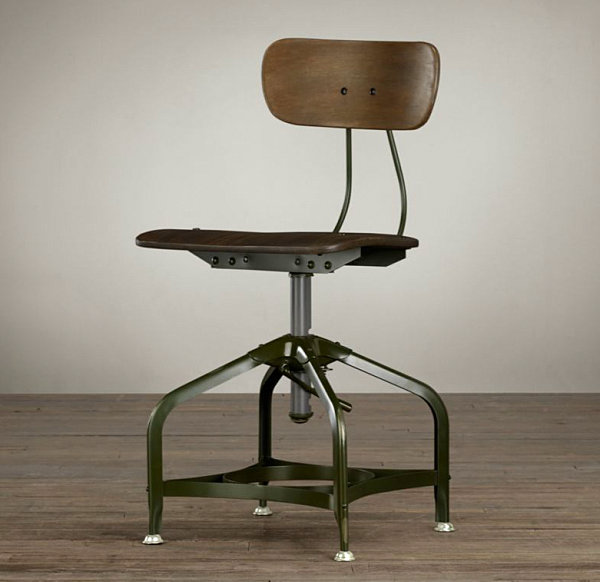 There is also another view. dining chair. Brilliant and steel, he, however, does not occupy a large space and does not stand out.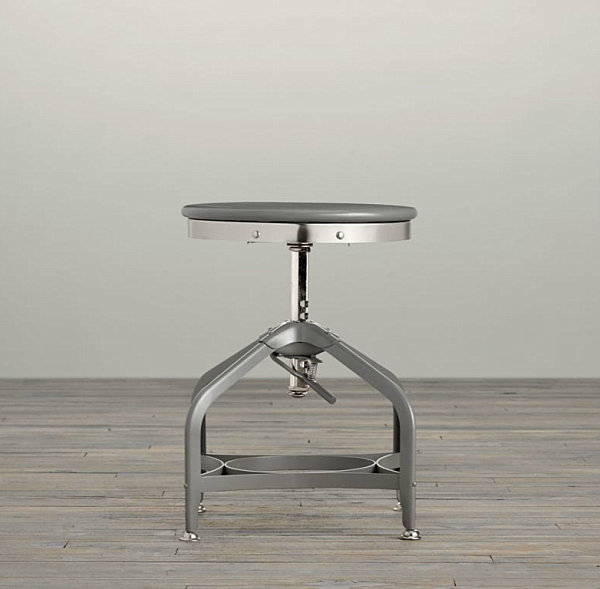 Bar chair from Restoration Hardware It has been used since the beginning of the 20th century in French cafes. Powder coated steel frame and oversized vertical bar for a sleek industrial look: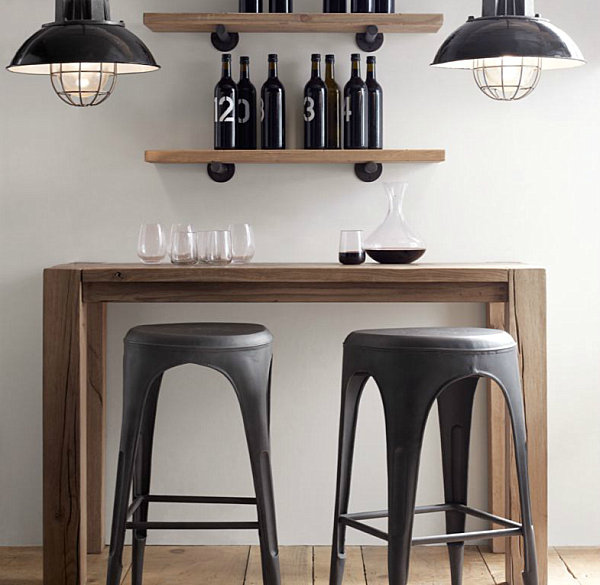 Along with such seats in the industrial design are also used and antique lamps, freely hanging directly from the ceiling.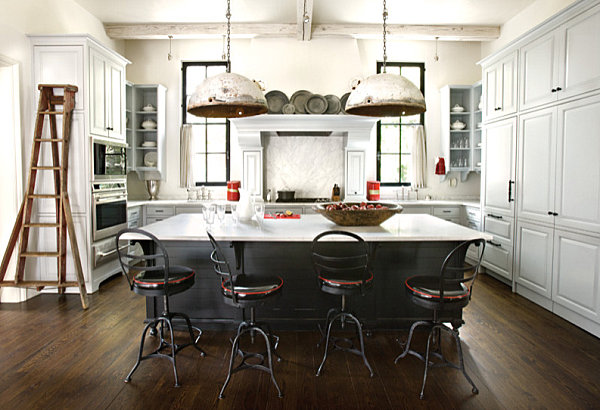 Also, do not forget about the use of other antique industrial furniture as cabinets. Many antique dealers are purchased with metal office furniture for big money.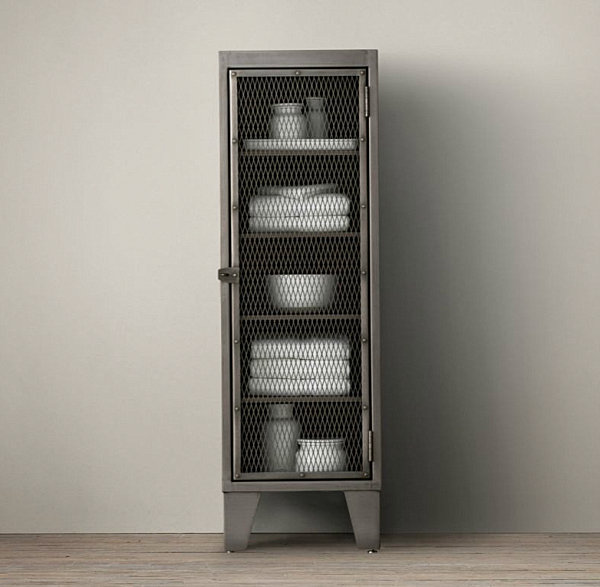 Restoration Hardware very proud of the design of their metal cabinets, which since the 1930s. installed in US laboratories. Made by hand welding, coated with zinc and metal rods, they are something unique.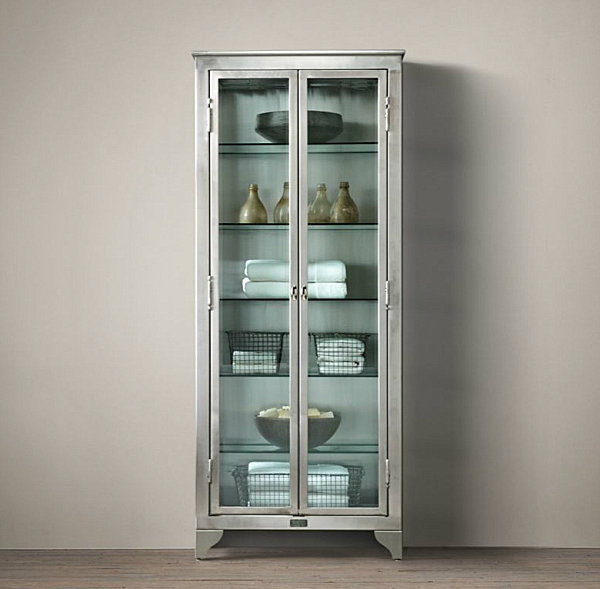 As you may have noticed, things in industrial design can take many forms. There are many ways to make an industrial look at home.
In the case will go all the antiques and various new items, details of which you can purchase in any price categories.
The most unusual effect of this trend is the contrast between the coziness, the softness of the familiar living environment and the hard textures, deliberate negligence, unfinished business, the roughness of the industrial-style finish. A full loft is, of course, expensive.
But start with all the details of the forces. Furniture and accessories in industrial style attract the eye.
We are glad to welcome you on our portal Design Museum! Furniture, interiors, light, decor, interior shows and famous designers are our best collection.