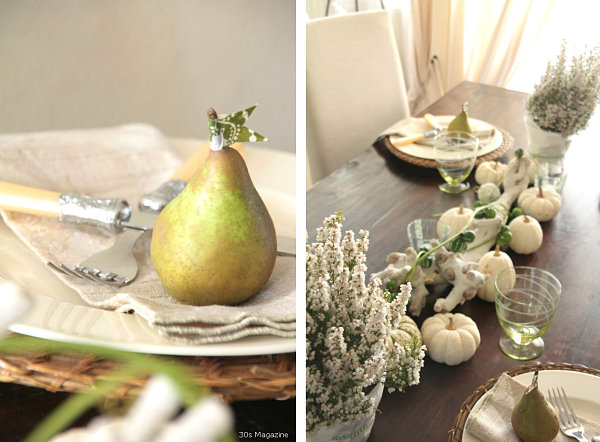 Shabby chic tablescape
I suggest that visitors to the Museum of Design consider the decor options from the pioneer in the design world Rachel Ashwell for this holiday. Particular attention should be paid to such a direction as shabby chic.
Such details give a general feeling of comfort, for more details about this can be found in 30s Magazine.
Today's post is completely devoted to options for festive decoration. It has elements of vintage style combined with an elegant look.
It should start with Rachel Ashwell Shabby Chic Couture, because without a tablecloth, table setting is impossible. It will set the background for other devices.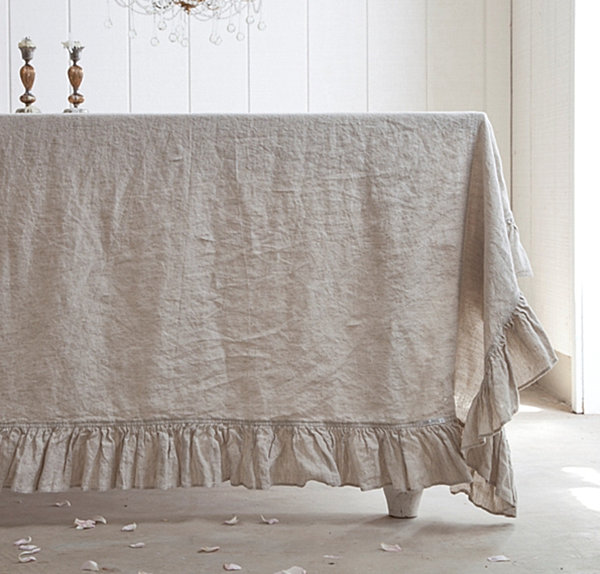 Focus on linen fabric
For more charm, you can add the same napkins from Fleur de Lys Linen Napkin with elegant embroidery.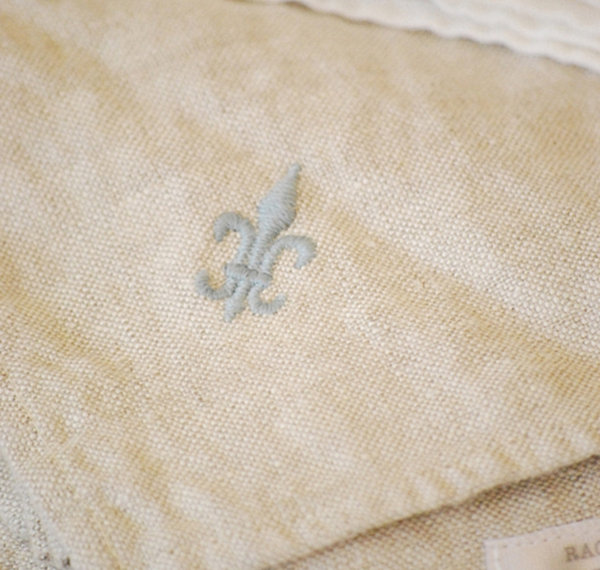 Great set with a tablecloth. Without the Crown Mugs utensils, decorated with crowns, just can not do.
Snow-white dishes, delicate patterns – this is all Prairie Serving Bowl.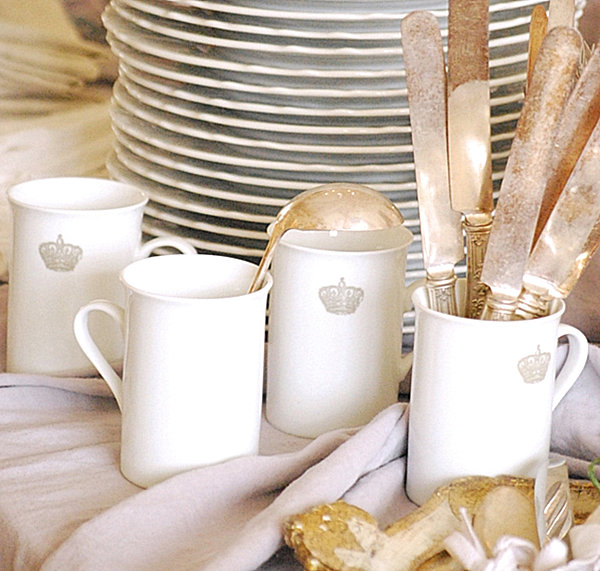 Elegance of every detail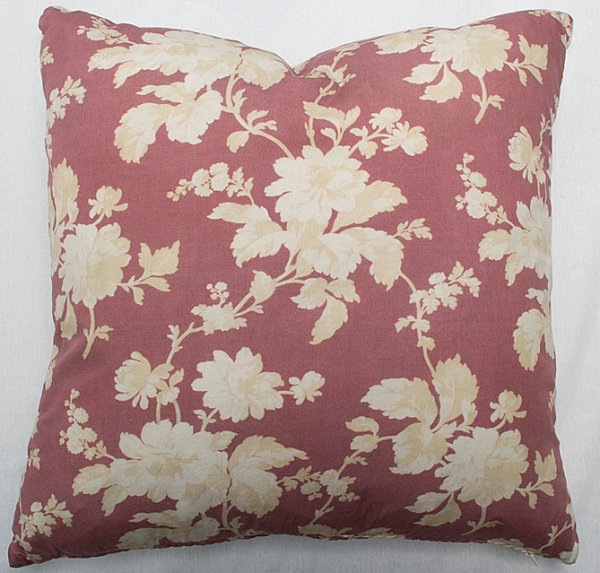 Soft fabrics and floral patterns are always relevant. This option can also be used for Thanksgiving interior decoration.
The designer offers a gentle English Rose Pillow.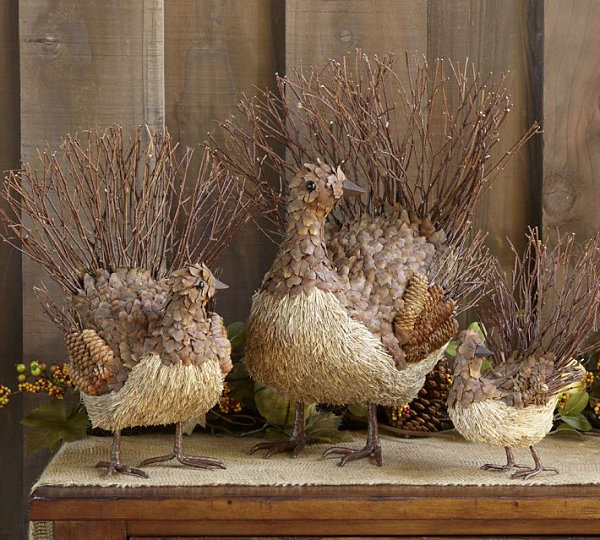 Unusual, but from natural materials
Once again we will touch on the topic of linen napkins. Pay attention to Set of 4 Cross Dyed Linen Napkins.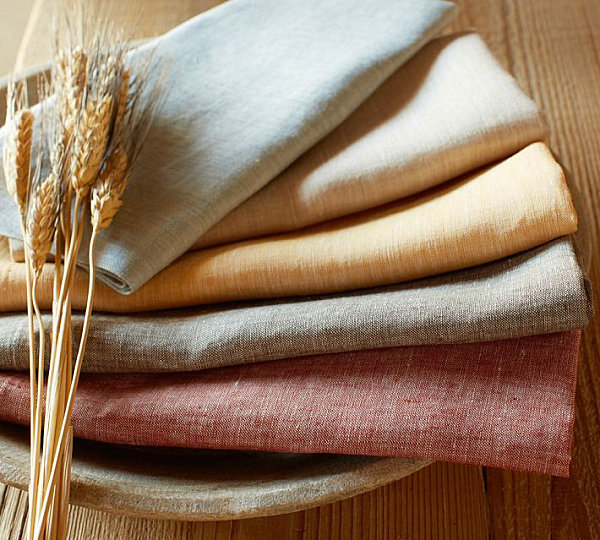 A set of several colors
Silver accessories are very relevant this season. Consider original decorating ideas in the same style.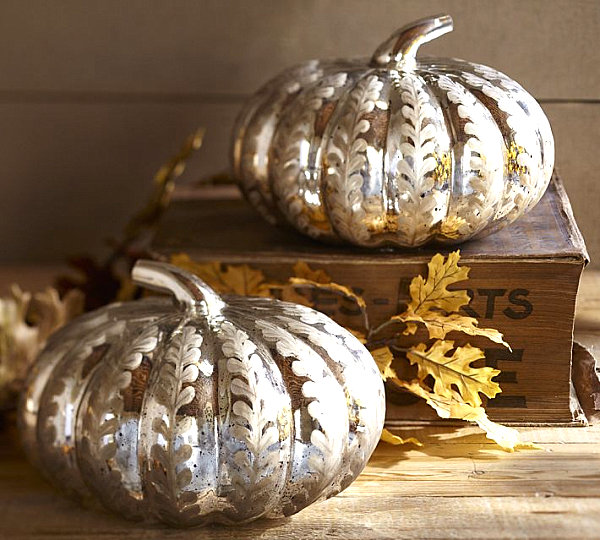 Etched Antique Mercury Glass Pumpkins
Classic white dishes Set of 3 Juliette Platters are appropriate and do not violate the harmony with other items for serving.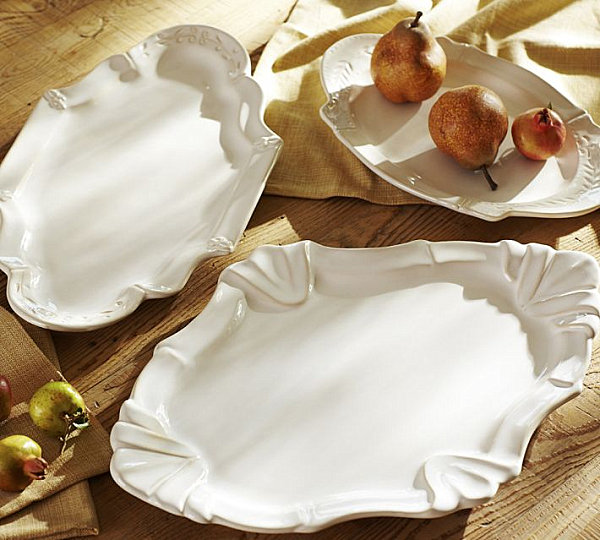 In the antique style
Well, without spoons and forks will not do a festive table.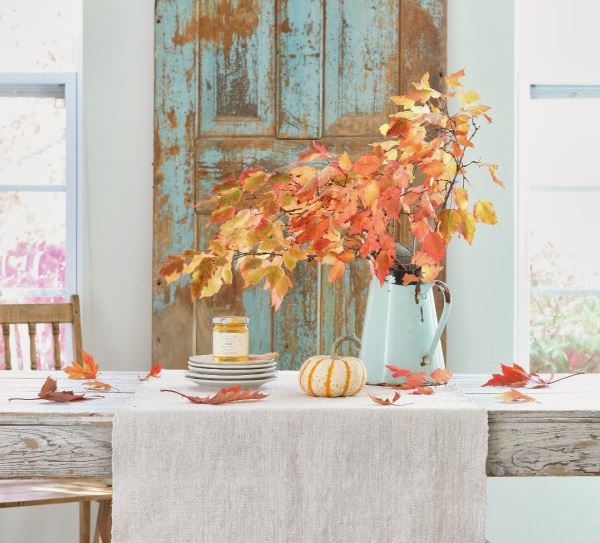 Simply Designing with Ashley – this is the original vases, colorful shades and shabby chic, which will give elegance to any room.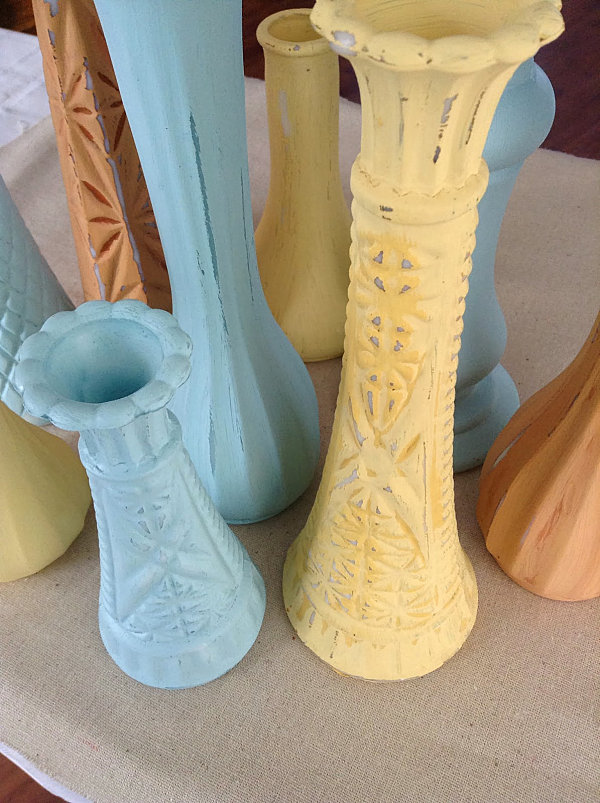 Pastel painted vases
French Larkspur can be placed in the dining room. Bright and unusual, especially in white.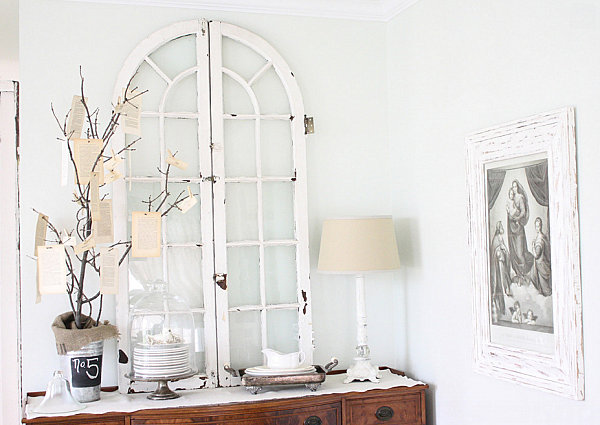 Eclectic in the living room
For greater coherence of the interior and decorations, such white pumpkins are used, which are ideally suited for this direction. More details on Shabby Chic Blog.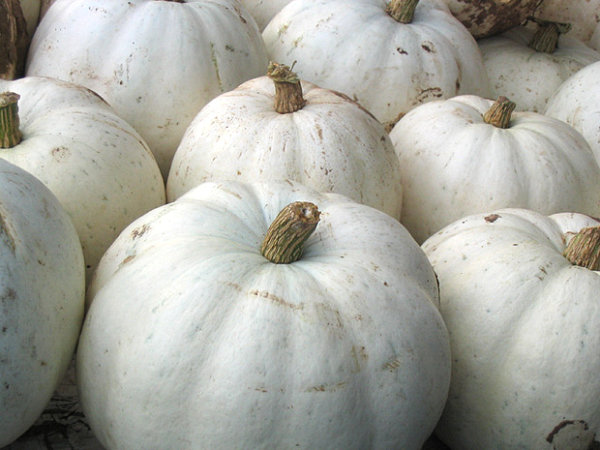 Nelly Vintage Home proposes to use in the design of pine cones. They evoke the charm and sensation of intimacy with nature.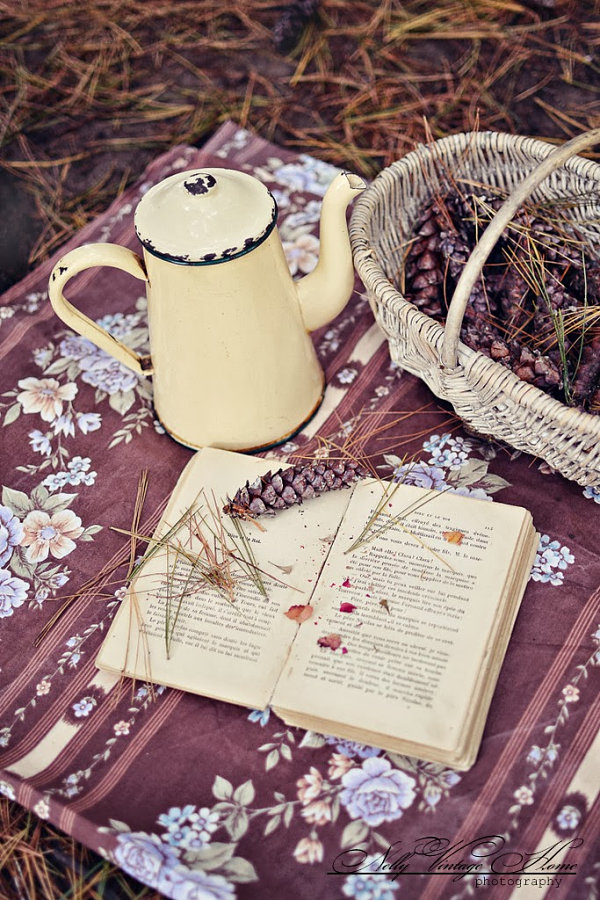 A nice option to add brilliant accents. Here is such an original bird surrounded by cones.
Agree, stylish and bright (The Old Painted Cottage).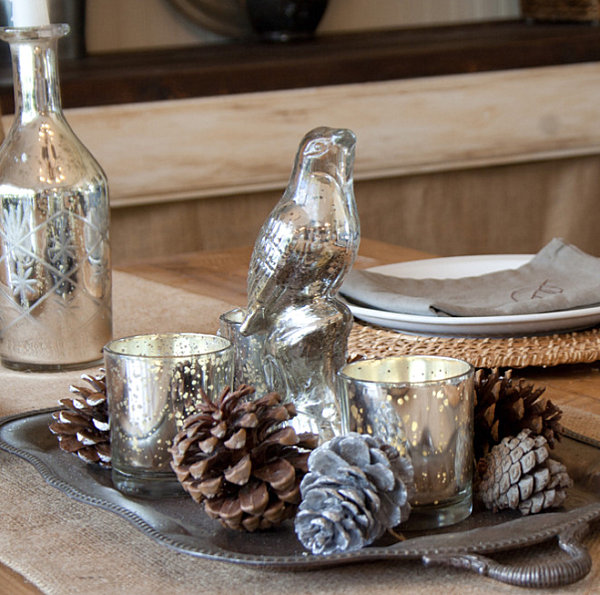 Will take center stage among the festive decorations
Nelly Vintage Home used a floral patterned tablecloth. Beautiful and unusual, and in addition with sophisticated items for table setting will look extraordinary!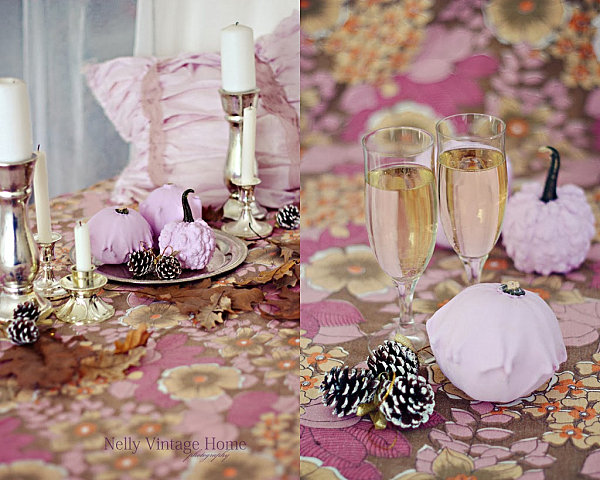 Vintage fabrics with autumn themes are also quite appropriate (Duckyhouse).