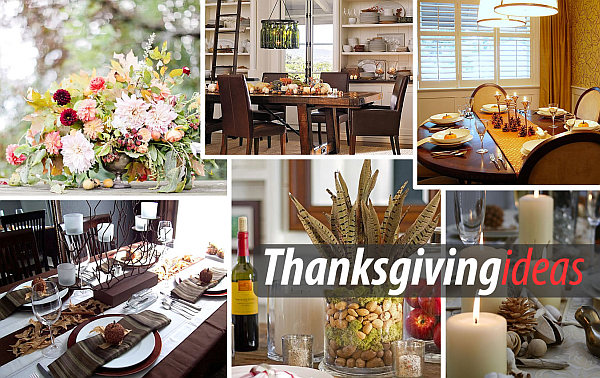 On the eve of holidays, visitors to the Museum of Design may find it interesting how you can arrange a table for a celebration.
There are no general rules and requirements for decorating the table, as opposed to serving. Dressing is carried out on the basis of personal experience and taste, and necessarily according to the event.
To do this, you must have a tablecloth, napkins, dishes, cutlery, vases with fruit and flowers, decorative compositions and, of course, candles.
Live, only cut, or artificial, made in a naturalistic manner, the plants are a classic way to decorate a festive table. Below we can see the beauty and tenderness of the bouquet from Poppies. Posies in a vintage tin vase.
The secret of the design is the wire mesh, which holds the basis of the composition.
The next image is composed of contrasting elements: white delicate flowers, green eucalyptus pods, cones and a wooden base. All this perfectly complements each other and reminds us that opposites not only attract, but can create a harmonious combination.
If you want an autumn mood, then sets of leaves are perfect. They need to be collected, treated with a saline solution, so as not to fade, and put in a beautiful low vase. .
Here is another composition: fresh flowers and fresh vegetables are located on a wooden stand and complemented by a pair of candles. The still life looks complete and invites you to celebrate some autumn holiday.
Instead of a vase, you can use a real pumpkin, as did Jennie Love from Love Fresh n Fresh Flowers.
Ordinary greens in a jug, complemented by antique brass candlesticks of different heights, can start playing in a completely new way, stunning and original. This design offered Crate Barrel.
Sometimes the best decoration of the table can be a bouquet of bright large flowers.
Dried ferns and mosses can be an excellent alternative to fresh flowers. They can be formed in a very fantastic work, without losing aesthetically.
For example, below we see a wonderful composition of moss, fern and nuts, the author of which is Layla Palmer.
With similar works of applied art, we thank nature for her generosity and filling our table in the autumn season. Employees at West Elm have proposed using very unusual material to create a horn — unglazed ceramics — terracotta.
And the fruits are made of ordinary plastic.
Another good idea was shared by the site Better Homes and Gardens. The authors recommend one of the most vivid and cheerful colors to decorate the table.
The base was a lemon saturated yellow color.
The remaining elements are neutral shades of beige and gray on a red tablecloth. Such a composition pleases the eye, fills with energy and good mood.
Who said that only fruits or vegetables should be in the horn? For example, the authors of Clandestine Craves are advised to make it out of metal wire and fill the structure with cones.
It looks very original and will fit as an element of decorating the New Year's table.
And Joni Shimabukuro from Francoise Weeks went even further and offered to fill this symbol with vibrant colors of rich shades. His work of art is perfect for both summer and autumn compositions, and the winter period will simply become a ray of hope for a soon warm summer.
Not only a large object, but also an ensemble of small parts can become a decor option. For example, small pumpkins, candles and a few dried twigs with berries form a festive still life that fits wonderfully into the overall atmosphere.
Cutlery can also be used as a design element in the table setting. Below is an idea from the Pottery Barn website, where the decor is candles and a Turkish bowl with a bird-shaped lid.
Dining room looks just great, despite the fact that the main style is chosen country. A wooden table and chairs in combination with a wrought-iron chandelier and candlesticks set the general tone in which handicrafts made from natural materials – straw turkeys – perfectly fit.
All this splendor is supplemented with artificial and natural fruits and vegetables. Such a serving can even be called luxurious considering the surrounding interior.
Decorative candles are often an important component in decorating a festive table. They can be made central decoration, for example, if you use candlesticks of unusual shape.
Designers Focal Point Styling offered an amazing design for candles.
Below is a composition from the author's design group The Old Painted Cottage, where the main idea was the contrast between the cold of silver elements and the warmth of wood. A great combination of opposites creates a harmony of life.
Minimalism of decorations in the form of cones and candles looks very appropriate in this modern interior, where the ball is dominated by rich colors and elegant table setting in a cozy spacious room. The author of the project is called Rambling Renovators.
The combination of cones and candles without the rigidity of metal candlesticks emphasizes the softness and naturalness of the style in a neutral scale.
The last image shows us the design of the cupboard in the kitchen or in the dining room with the help of candles in glass cups, a bouquet of twigs with berries and the main component of the decor – a painted tray.
Decorating a festive table is the art of combining the most diverse details of animate and inanimate nature with a sprinkle of metal, glass, ceramics and even plastics.
Artistic taste, sense of grace, elegance of shapes and sizes, and sometimes the use of contrasting elements will help to create a real masterpiece that will not only please the guests, but will be remembered for many years as the most unusual, beautiful or elegant decor.