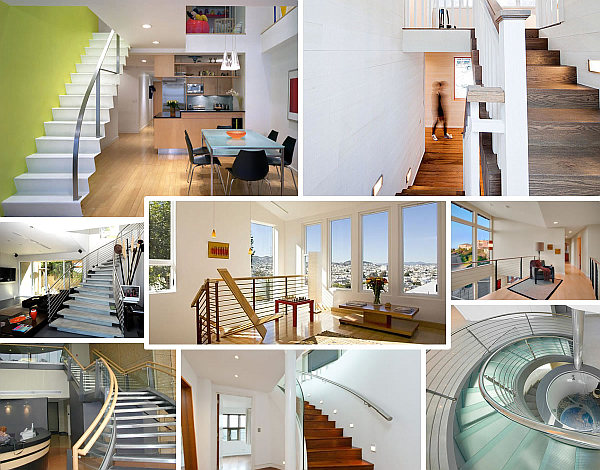 How many times have you walked up and down the stairs without paying too much attention to what surrounds you? But, in fact, the design of this part of the house is no less important than anything else.
That is why more and more homeowners are choosing stylish stair rails, because they are not only for fencing or support, but help to create a whole image of your home. It can be a great home decor item.
Suppose you have a modern house, made in a minimalist style. Then you should choose handrails made of metal and glass, or wood, which will be well combined with the same floors.
The possibilities are endless.
This is a classic style in the interior, it is often chosen in addition to other elements made of this material. The distinctive feature of the handrails proposed below is simplicity.
Madrone Cap Handrail is a continuous line of light wood, which contrasts add contrast (from Five Twenty Two Industries via Houzz).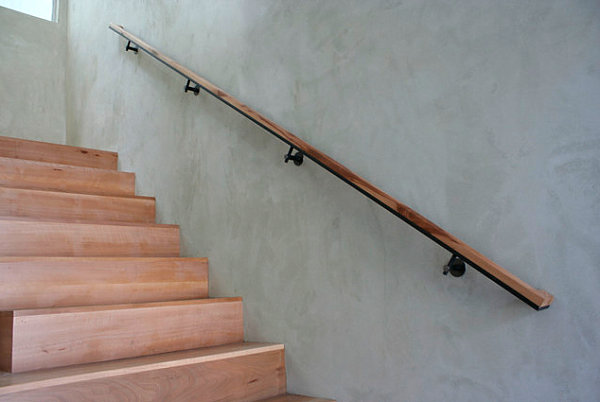 The next simple option is solid oak railing. In the photo you can see metal clamps that gently support the straight smooth bar.
Here the elegant form of the piece speaks for itself (from NYC Royal Stairs Inc.).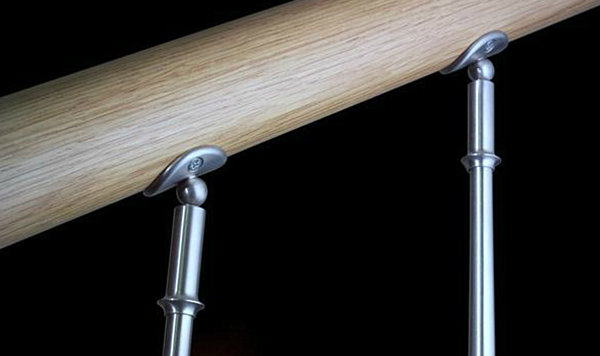 Wood can add both a touch of tradition and look surprisingly modern, especially when combined with materials such as metal and glass (by John Maniscalco Architecture via Houzz).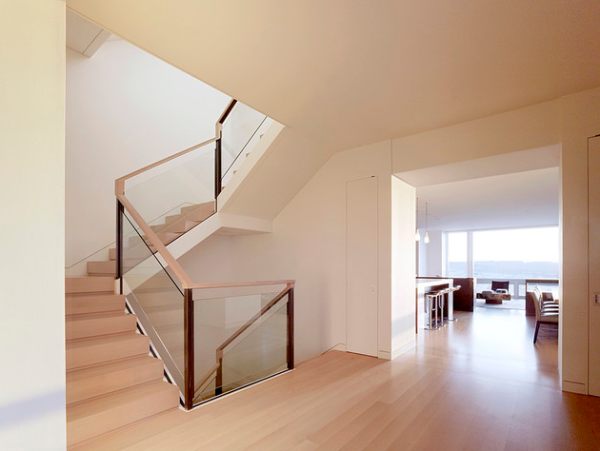 Wooden railings bring sensations of warmth to any space, despite the fact that they are complemented by cold chrome steel and glass (by John Maniscalco Architecture via Houzz).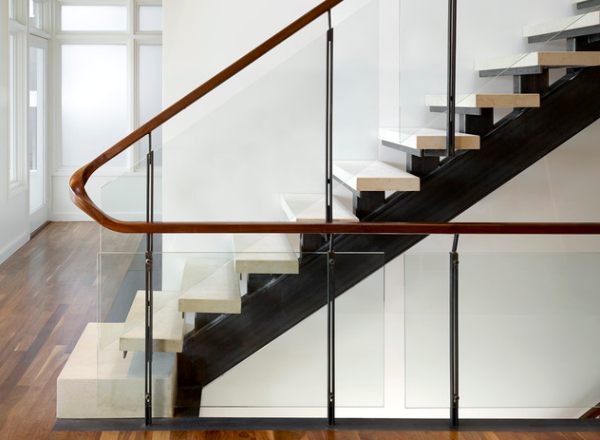 The golden glow emitted by hardwoods is also always associated with heat, they help to create coziness in the house (from BMF Construction via Houzz).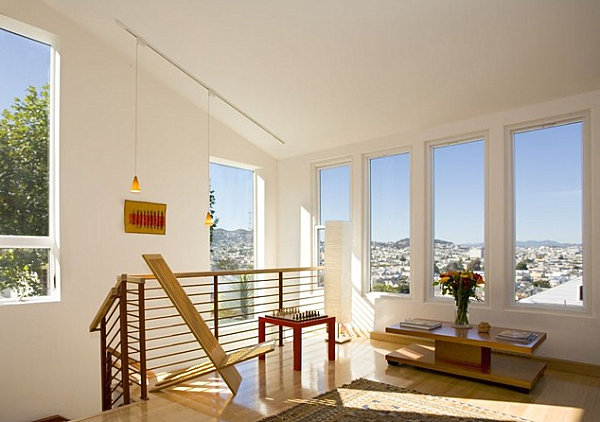 Ideal harmony occurs when a harmonious combination of wood railings and the ladder itself (from Builders MD).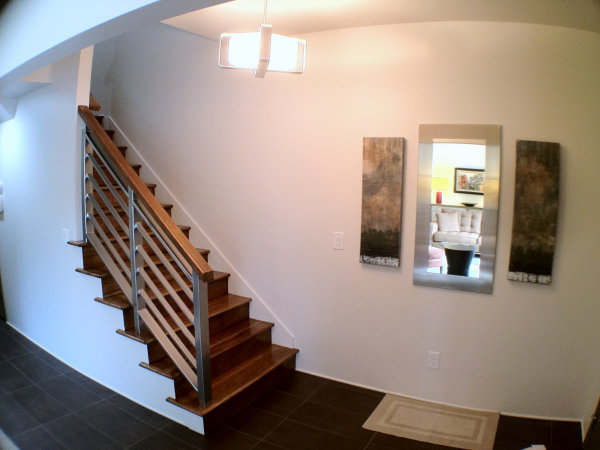 The abundance of horizontal metal lines, underlined by a single wooden one, directs and enhances the sense of movement in space (by David Neiman Architects via Houzz).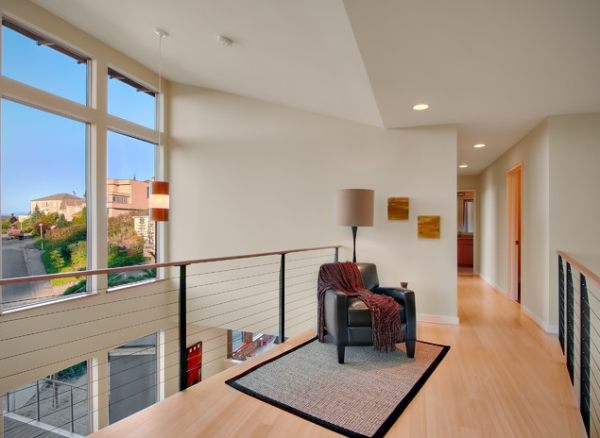 The corners, lines and curves of grandiose staircases for commercial premises demonstrate a range of modern building materials (from Virginia Railing Gates). The choice of material for decorating is great.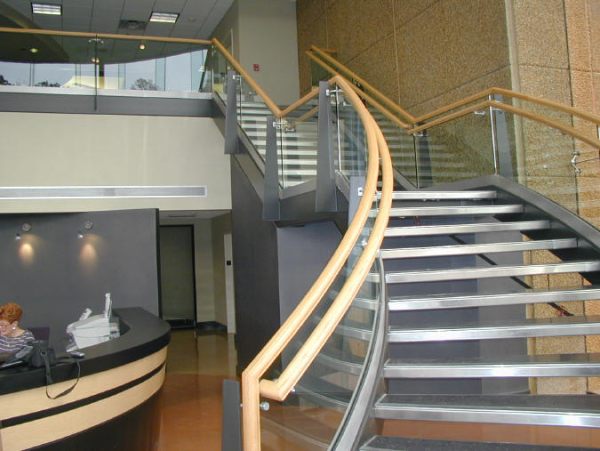 Vertical lines in handrails can be no less interesting than horizontal ones (from Houzz).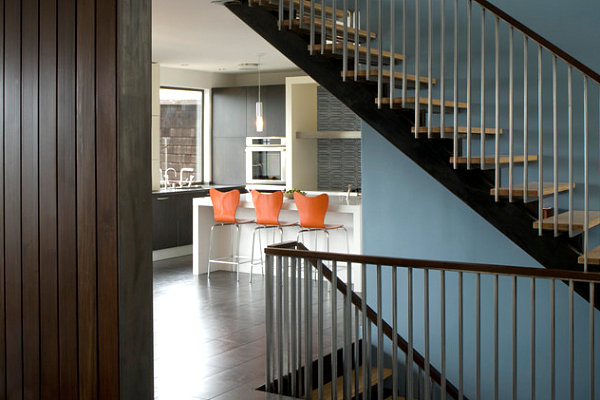 The solid staircase shown in the following image is made in a rustic style, but overall the design looks quite modern (by Peter A. Sellar – Photographer via Houzz).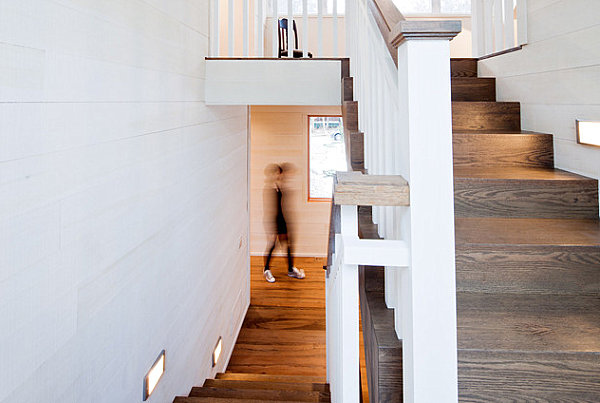 Wooden handrails can be painted in shades that match the color of your home. The black and white railing in the photo below is a great addition to the abstract triptych (from Myers Design Inc. via Houzz).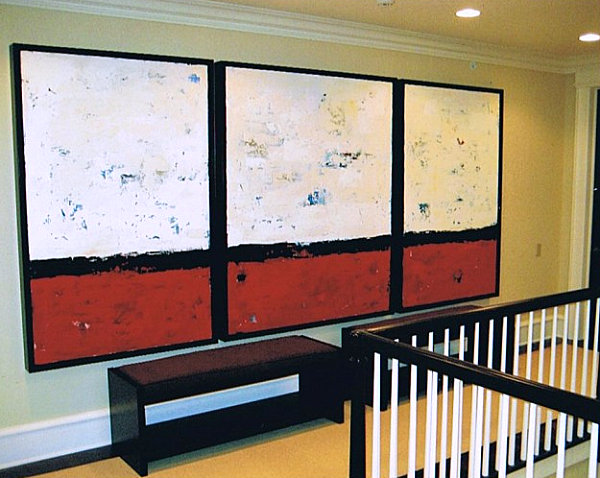 This plastic material allows you to create a variety of effects and emphasize, for example, industrial drain in the interior, shown below. Round segments soften and add individuality to rigid handrails (from Lucid Interior Design via Houzz).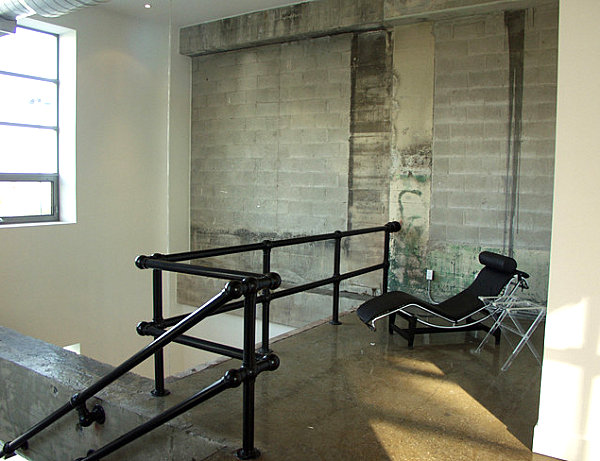 Many staircases have parallel steel pipe lines as handrails, curving around bends (from Creative Spaciz via Houzz).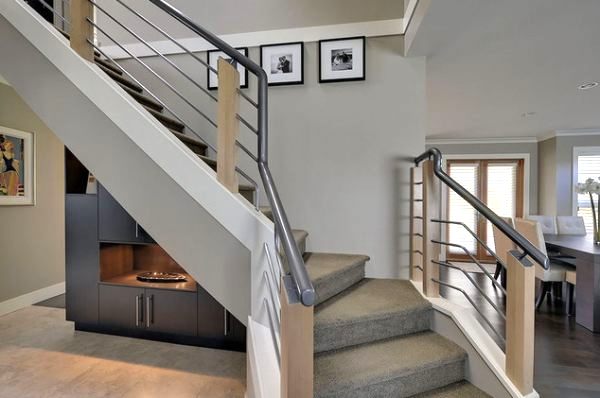 Metal handrails with horizontal stripes are perfectly combined with the Art Deco style (by Martin Fenlon Architecture via Houszz).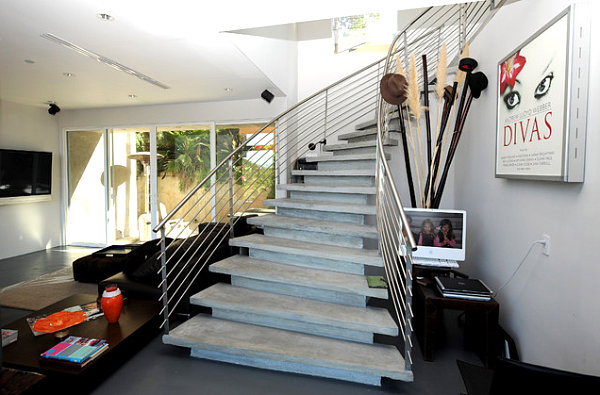 The stunning shape of the spiral staircase gives at least a stunning view. The following image proves that, if necessary, any bend can be added to the steel railing (from Segev Photography via Houzz).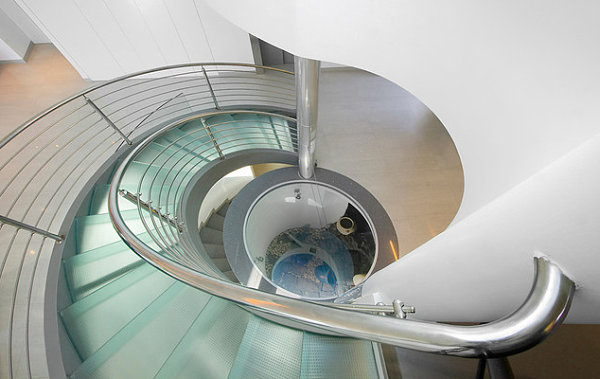 In fact, a well-thought-out staircase design can play an important role in creating an architectural composition in a house. Notice how the metal handrails in the photo below provide a bright contrast with wooden steps (from Royal Stairs Inc.).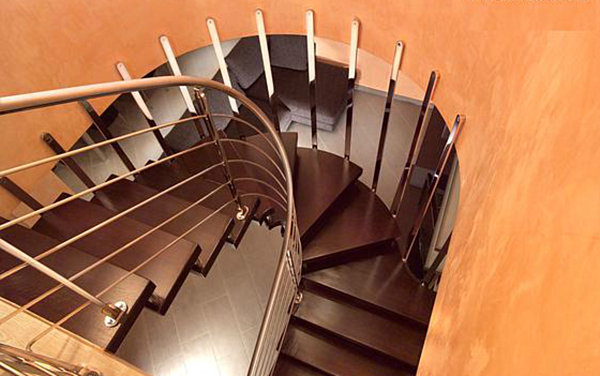 The most popular choice for framing a staircase is a light, matt metal, while in dark color it makes itself even more vivid, for example, against a white wall (from Cary Bernstein Architect via Houzz).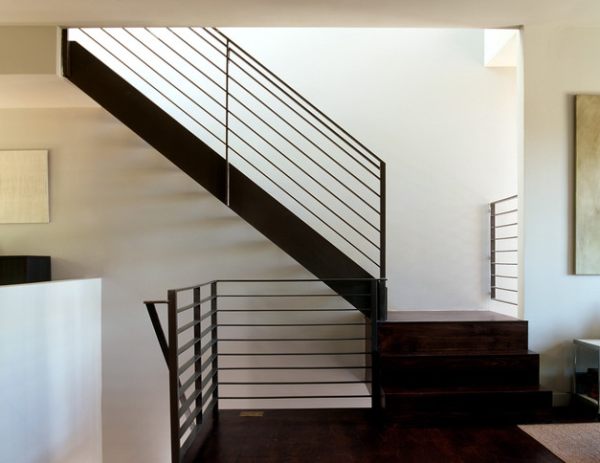 Want to create an interesting combination? Try to combine two tones – a black handrail and main supports, very strong, quite massive and thin horizontal light strings that add visual lightness (from Spore Design via Houzz).
Luxurious interior design you just provided!
Metal, as we have already noted, is a sufficiently ductile material that allows you to add various artistic elements to the design, including in the stairwells.
Below you can see how the wavy lines create a leaf shape, folding into a floral ornament that is very adorning to the object of our interest (from NYC Royal Stairs Inc.).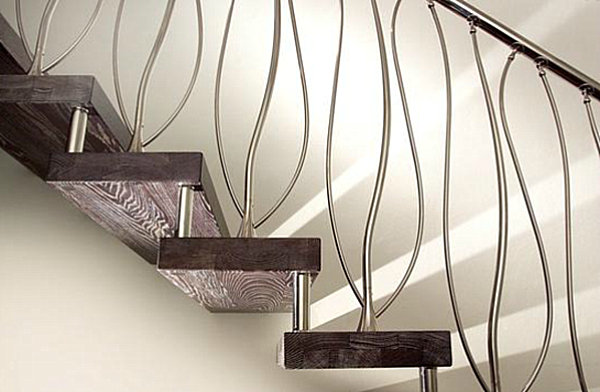 Sculpted railings will look very beneficial against a bright wall, such as a yellow-green (from Chelsea Atelier Architect, PC via Houzz).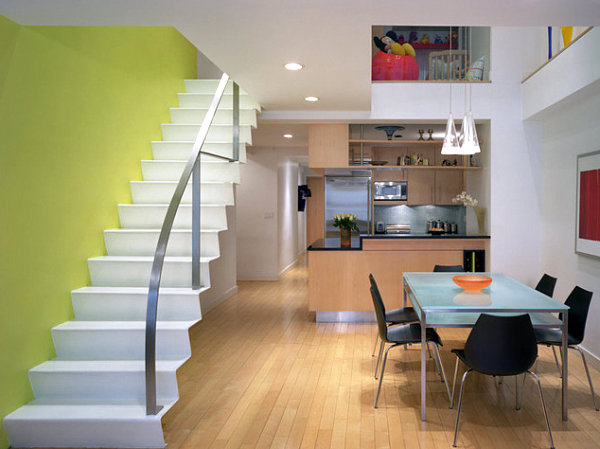 When one of the walls of the staircase is glass, then all you need is a completely simple steel handrail (photo from Matthew Millman, from Redmond Aldrich Design via Houzz).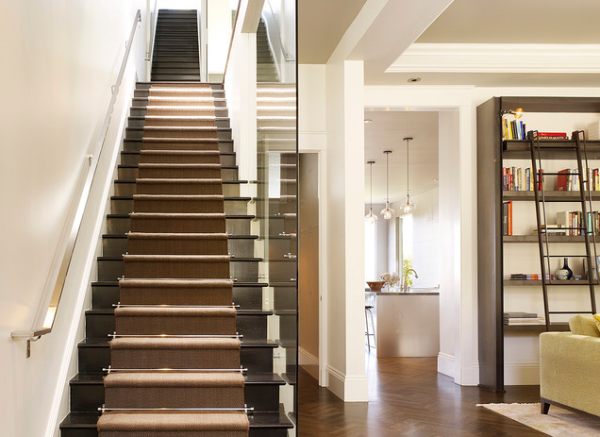 Similar to the previous version, a metal bar repeats a curve on the wall, defined by a glass fence on the opposite side (from CS Photography via Houzz).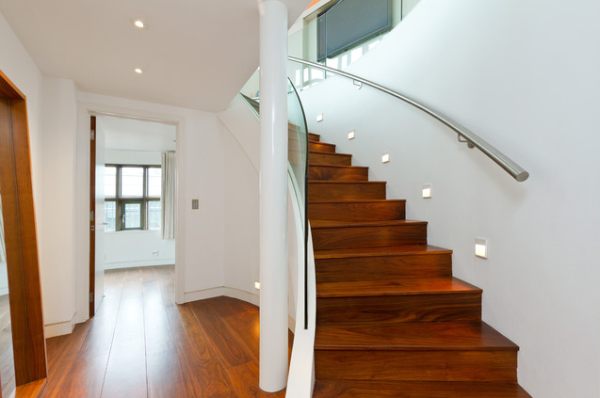 The interior is decorated with simple handrails with a zigzag design, they represent simplicity in all its glory (from Elfish Investments).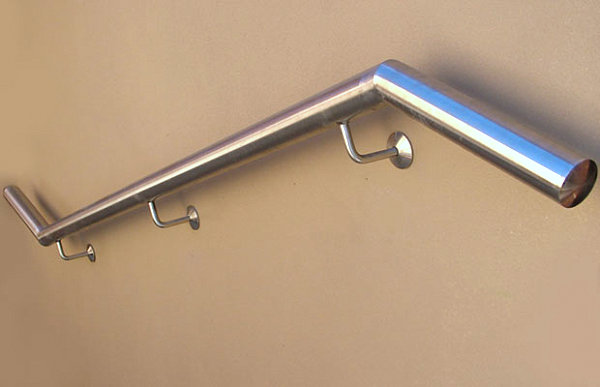 An interesting combination is obtained when you take a simple stainless steel railing and complement the wooden detail on the wall (from Life of an Architect).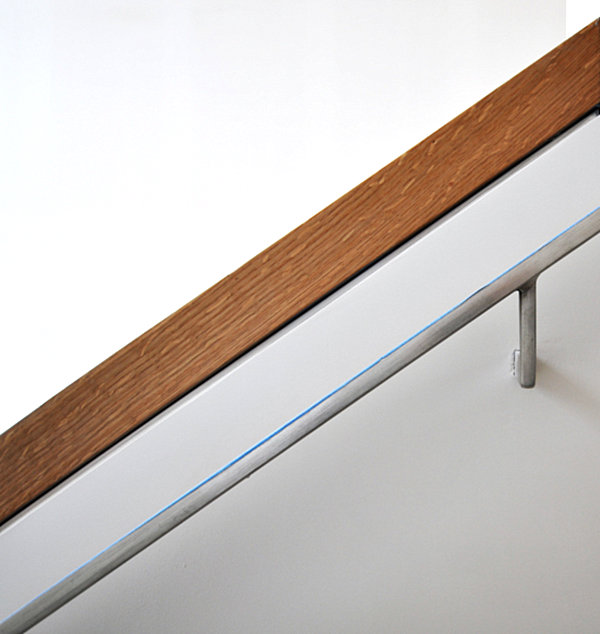 And we are completing our collection with an amazing object created from a steel frame pattern and glass steps (from NYC Royal Stairs Inc.).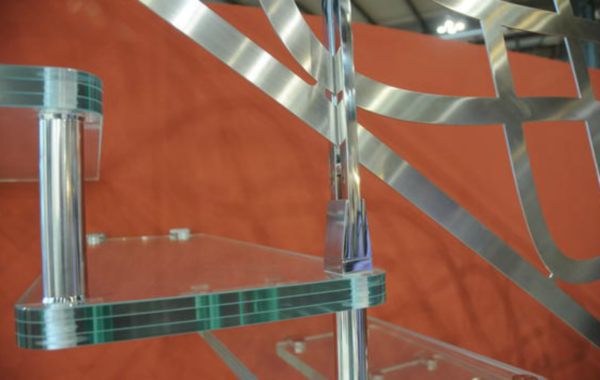 If you are in search of something special that will make your interior exquisite, then the next section is for you! LED handrails against the dark walls will shake any imagination (from Inhabit)!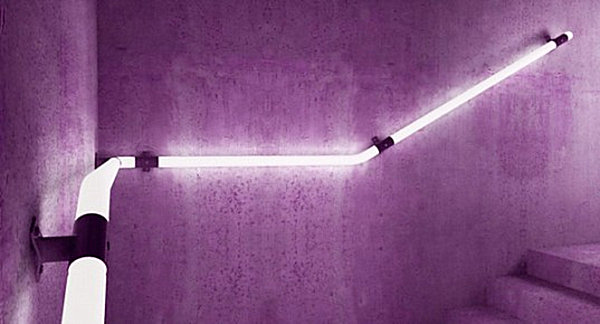 How do they shine? Where are the sockets and cords?
These questions arise for anyone who sees it. In fact, everything is simple – the power supply is connected directly to the supports.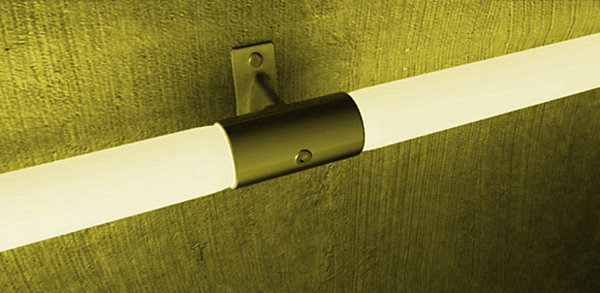 These amazing handrails create a very special atmosphere, thanks to the fact that the color of the radiation can be chosen. In addition, they are very functional, because there is no need for additional lighting of such dark enough places as stairwells.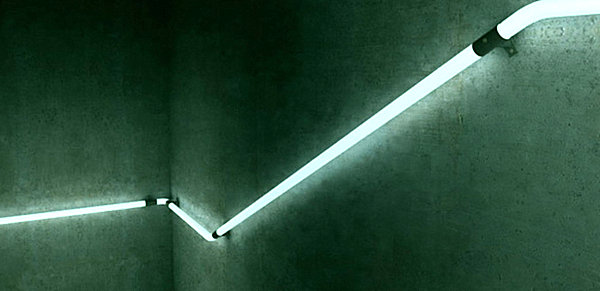 Another interesting option is a full glass railing. They are very beautiful and light, transparent from top to bottom (from Nancy A. Fink).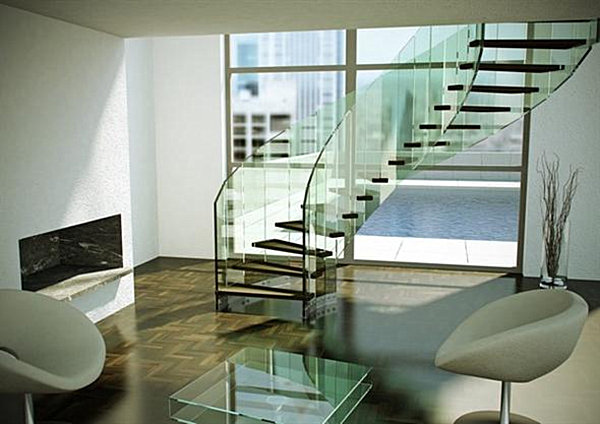 If you want to create a retro style in the interior – use brass. It can look great both in commercial premises and at home, especially if you want to "wear out" the interior a bit (from Virginia Railing Gates).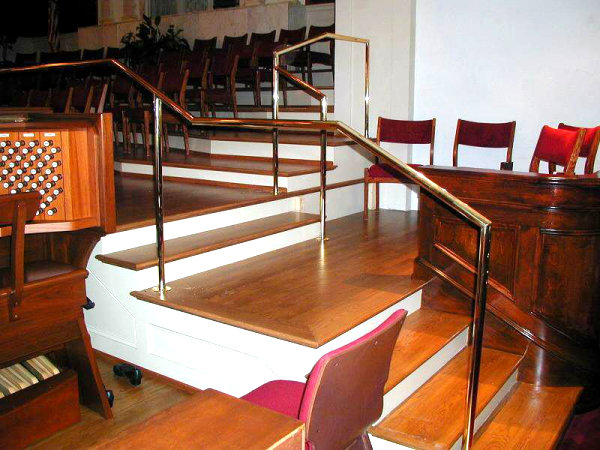 We can not forget that handrails are a necessity for open spaces, used for security purposes, not to mention the aesthetic function.
They can really emphasize the architectural ensemble of the house. An example of this is the following image (from Cornerstoun Group Architects via Houzz).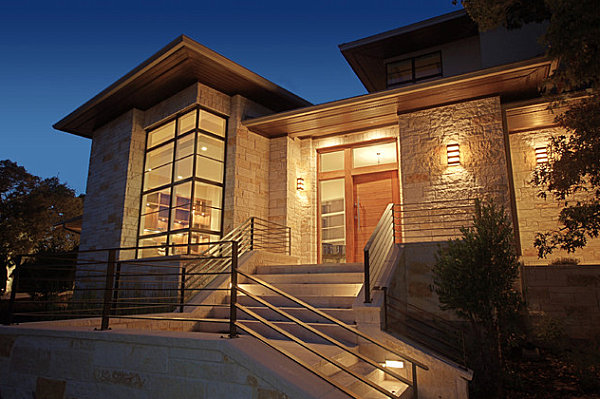 Metal railings can create a bright contrast with the veranda and the staircase lined with wooden planks (by Mark English Architects via Houzz).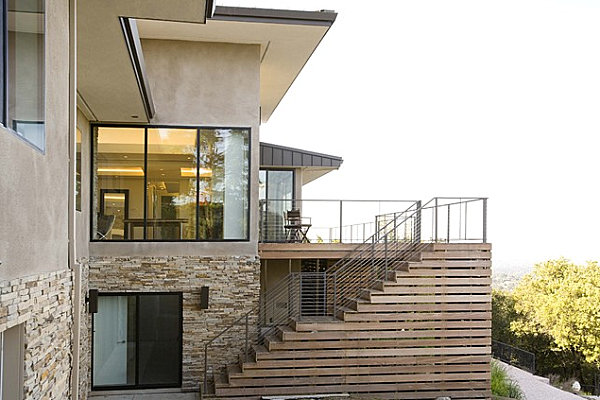 Brilliant chromed handrails with horizontal parallel lines are often used for framing staircases made from cement (from NYC Royal Stairs Inc.).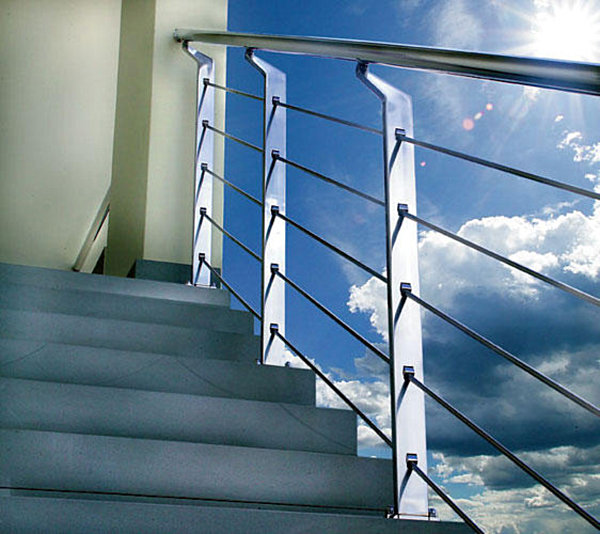 Often, railings are used on balconies and other above-ground spaces to ensure the safety of people who may be there. However, concentrating on the functionality, do not forget about the style (from NYC Royal Stairs Inc.).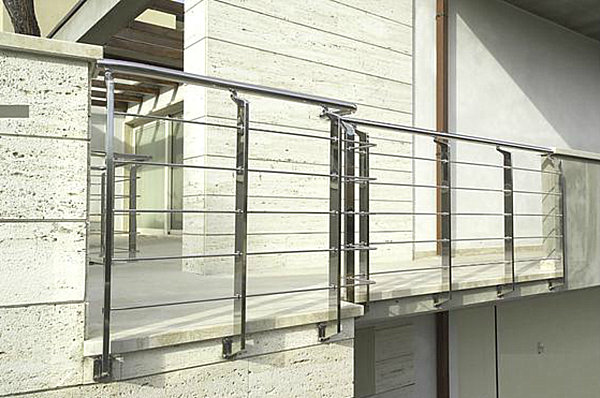 We end our selection with handrails framing the indoor area. They really have a need.
The premises are very spacious and, in combination with high ceilings, this requires the adoption of certain security measures (from Elfish Investments).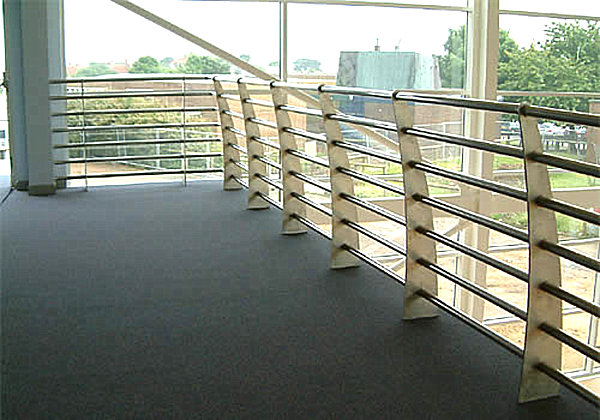 So, whatever handrail you choose, make sure that they fit into your style. And do not forget that sometimes the simplest solutions are the most effective!