The benefits of living indoor plants, no one in doubt. In addition to being used as a natural remedy for air purification and ozonization, they can be used as spectacular, bright and beautiful decoration elements, which is what many modern designers do.
At the Design Museum more than once considered projects in which potted flowers played a key role in the interior, and this topic is one of them.
Here you are invited to see a very interesting variation of the creation of live compositions, the idea of ​​which was suggested by ancient architects from Babylon.
And especially it will be useful to those visitors who could not previously afford the luxury of a green decor, in view of the lack of free space.
Several of the options presented below are unique in that they can be implemented with minimal effort and cost. You will need a fantasy to create an interesting, original and eco-friendly exposure and, perhaps, some skills, such as weaving macrame or drawing.
All other items (vases, pots and other containers of unusual shape, special unassuming varieties of flowers, etc.) can be purchased in the respective stores.
It's no secret that the creation of comfort begins with the addition to the interiors of individual and personal trifles, which not only give integrity to the image of an apartment or house, but also endow it with character.
After all, how faceless look the rooms in which there is not a single cute trinkets or photos. Here you do not just give expressiveness and completeness to the design, but also create a unique, stylish and useful item, which, moreover, does not take up extra space.
One of the options for fixing the hanging gardens is the ceiling, so the floral arrangement will be a bit like hanging lamps.
As a unique ceiling-pots, you can buy any ceramic or plastic containers attractive shape. But they are also easy to make their own hands.
To do this, you can use any jars, bottles, containers, etc., which will need to give the desired shape by removing excess and paint their surfaces with any lasting paint or even nail polish.
Of course, you still need to think about the mounting system (type, length, method of fixation to the ceiling and ceiling) and collect the entire composition.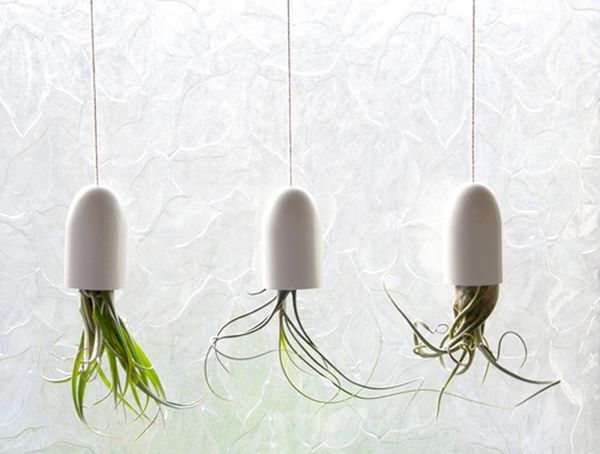 Hanging gardens created from original bottle pots
Another indisputable advantage of such landscaping is the fact that other family members can be involved in creating a stunning decoration to all creative processes from the moment of his ideas to his realization.
And, probably, the most irreplaceable, tireless, gushing ideas will be your children. And, of course, some ideas, as well as their phased implementation, can be peeped on some sites.
For example, one can take as a basis the universal version of the live composition from Gabriella Asztalos, which used liner-like vessels of various sizes, painted with metallic sheen.
Of course, for these purposes you can apply and metal containers, but their cost will be quite high, and the weight is impressive, which will require a solid base and fastening.
The minimalistic and stylish look of the VAZ-lampshades makes an undeniable success of a stunning exposition, as it will easily fit into almost any modern interior and will give it exclusivity and chic.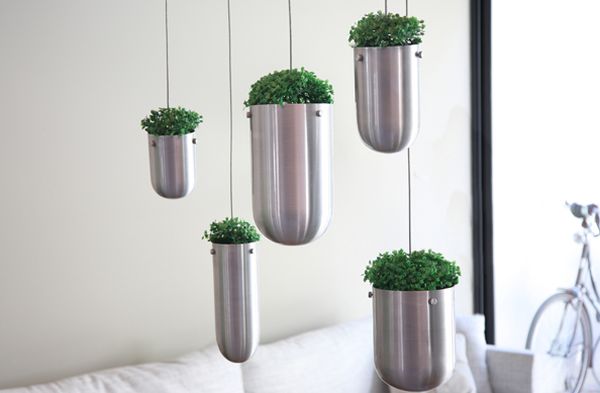 Modern and strong hanging garden by Gabriella Asztalos
Designers from Boskke and Jaguarshoes Collective, which used ordinary flower pots, but hung with bases upwards, rather than a peculiar challenge of gravity, offered a rather spectacular idea, but a very effective one.
In this project, the surface of the VAZ is decorated with a gentle and light print. Bright, but not defiant colors will organically look even in a strict interior, for example, in the cold Scandinavian style.
And, of course, such compositions will be a spectacular addition to the design of the children's room.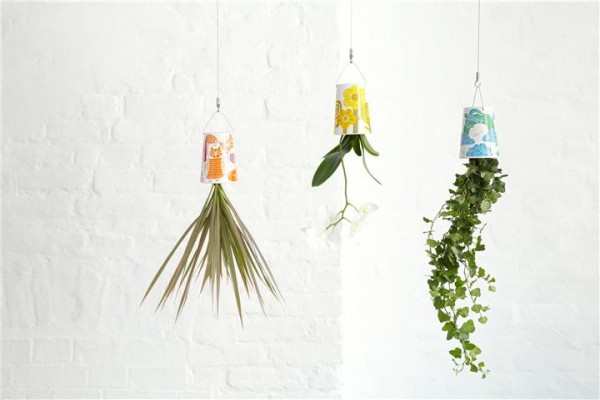 Bright hanging floral arrangement from Boskke
Very lightweight and spectacular exposures can be created using glass vessels. In one of the themes of the Museum of Design, such original objects as terrariums for indoor plants from West Elm, which are spherical containers with a side opening, were considered.
At the same time transparent surfaces will not shock you with unsightly soil and roots, since they use plants that do not require soil.
It has already been mentioned that such structures can not only decorate window sills, but also be suspended from the ceiling or wall. And below you can see how amazingly similar and modern-looking jewelry looks like.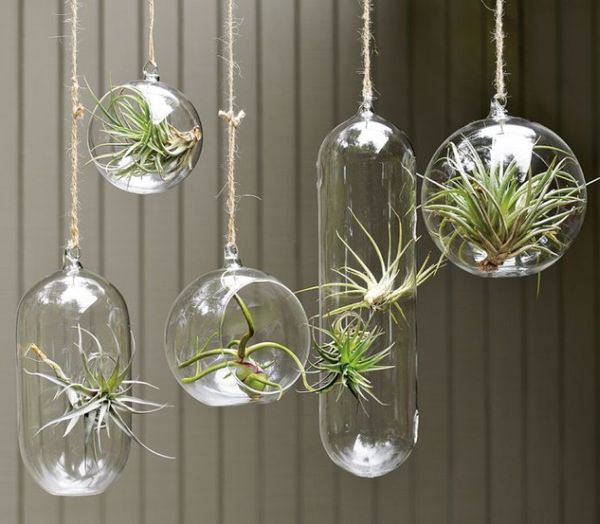 Spectacular hanging gardens created with a terrarium for plants
Ceramic ceiling canisters will look at least amazingly and stylishly. For example, in one of the projects of the designer Michael McDowell it was proposed to use vases made of natural Moroccan clay of noble brown-gray color and pods-like flowers, which also require only water for their development.
Its harsh, but very attractive design is perfect for creating coziness in a house decorated in rustic ecostyle or etnic.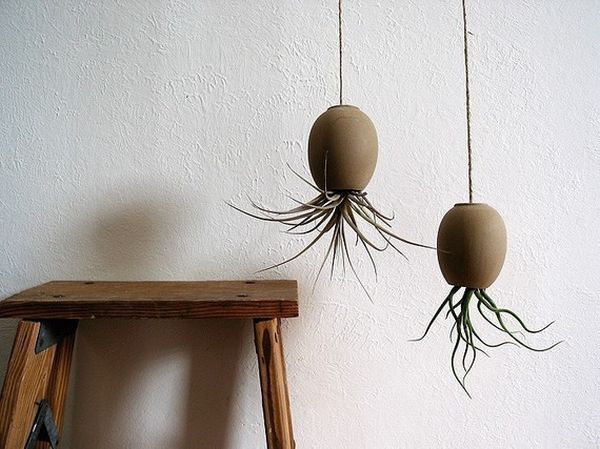 Rough ceramics as a bright component for hanging indoor gardens
If you are not a fan of dark shades in the interior, but you liked the composition above, you can slightly modify it using white glazed ceiling lamps. In addition, their glossy surface will reflect the incident rays of light, which will visually make the room even brighter.
It should be noted that Michael McDowell has created a whole collection of pots called mudpuppy, in which you can choose not only the desired size, but also your favorite shade and texture.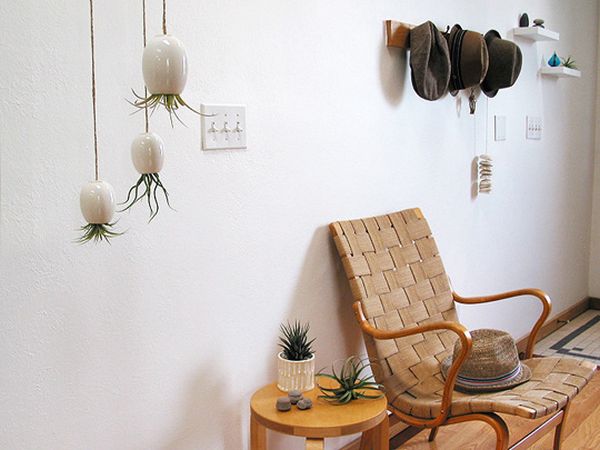 Glossy surfaces of vase hanging gardens, as a necessary element for a bright and bright interior
Do you want to decorate your apartment with original vases that can be used not only for indoor but also for bouquet flowers. In this case, the trailing composition must be created using test tubes or other elongated vessels.
The original shape of the containers, complemented by some bright or unusual objects, will resemble the once fashionable "singing wind". With their help, you can easily revive and fill the empty corners of the house, and also make the design melody play in a new way.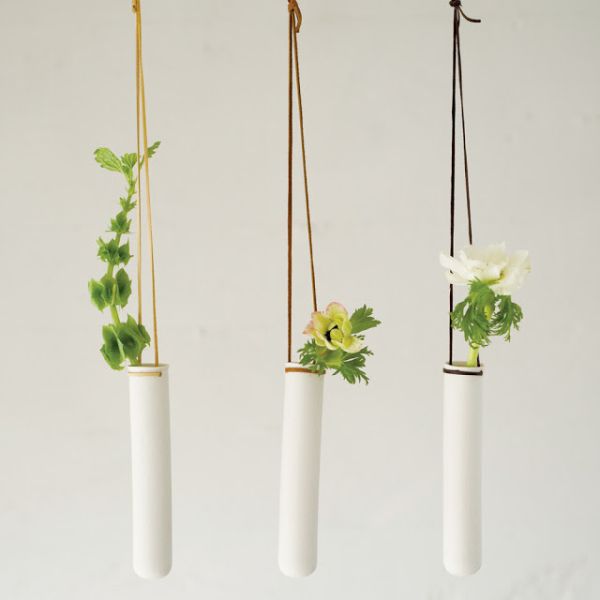 Attractive composition of vases-tubes
Completing the selection of hanging gardens exposure of glass balls. This simple, familiar form will never go out of fashion, because with its help you can create amazing design masterpieces.
Of these vases, in which you can put not only special unpretentious plant species, but also all sorts of ikebans, both clusters and garlands will look very impressive, as, for example, in the project from Wanelo. Just imagine how delightful and intriguing the green composition will be, hanging in the air, when the transparent walls will not be visible.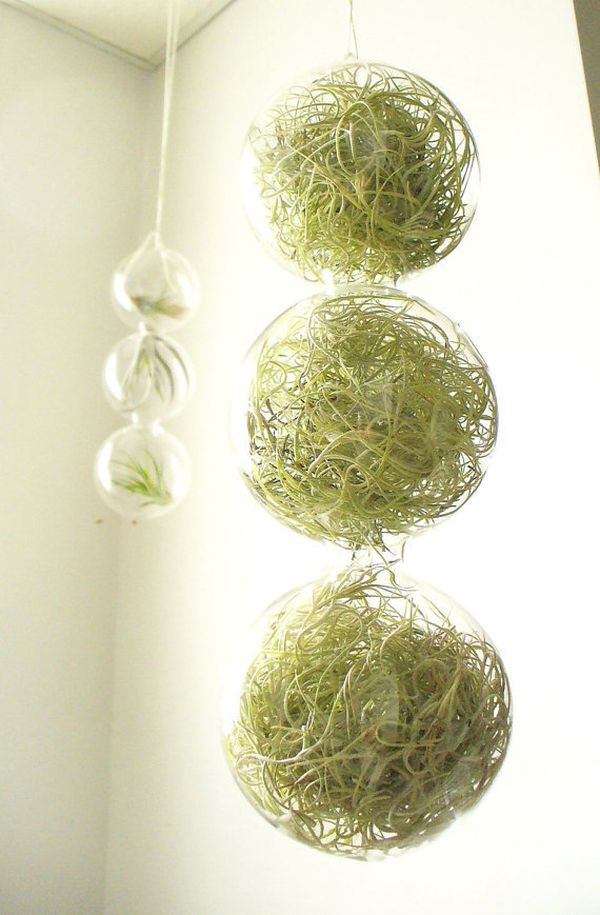 Air garland from indoor plants
Of course, the hanging gardens look very impressive and intriguing, but it is not always possible to implement such a design. But do not despair, flower beds on the walls look just as good.
You can verify this by looking at some nice options.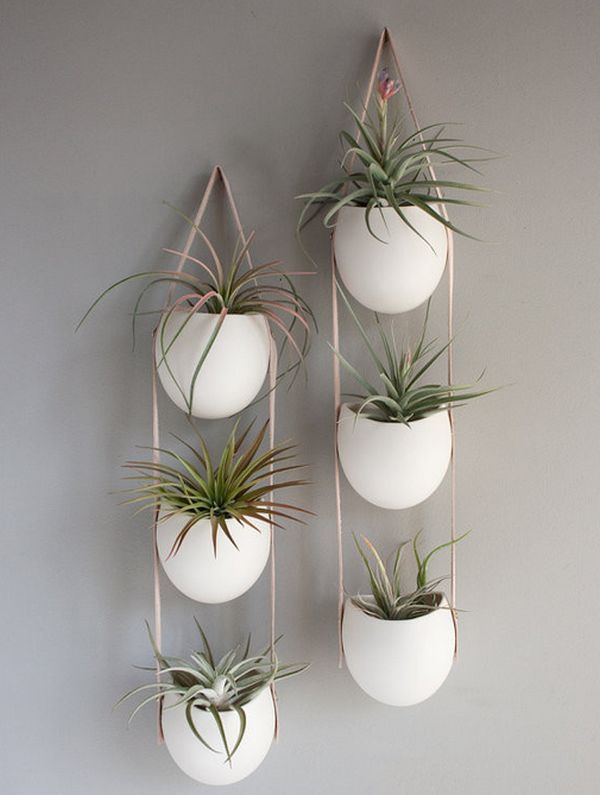 The original composition of porcelain bowls, hanging on leather straps
It should be noted that the use of ceramic vases suspended from ropes of various materials is a very popular technique not only among designers, but also among many of their clients. Their clear forms, natural material and often stylish design allow them to fit into almost any interior.
With the help of such products, you can create even the most intricate multi-level compositions that easily emphasize individuality, and sometimes even balance space. At the same time, ordinary potted plants and elegantly composed bouquets can be used for landscaping.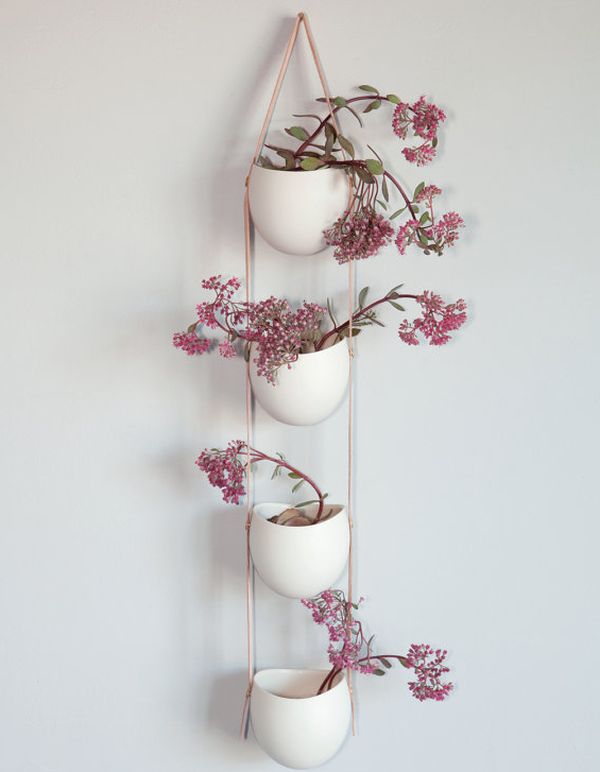 Four-tier composition in pink and white
If the type of suspensions confuses you or seems not very aesthetic and elegant, you can replace the mount by hanging the vases directly on the wall. This exposure is more flexible, as it allows to embody any pattern of colors: from simple geometric shapes to florid symbols.
But in this case, you need accurate marking and neat work with tools.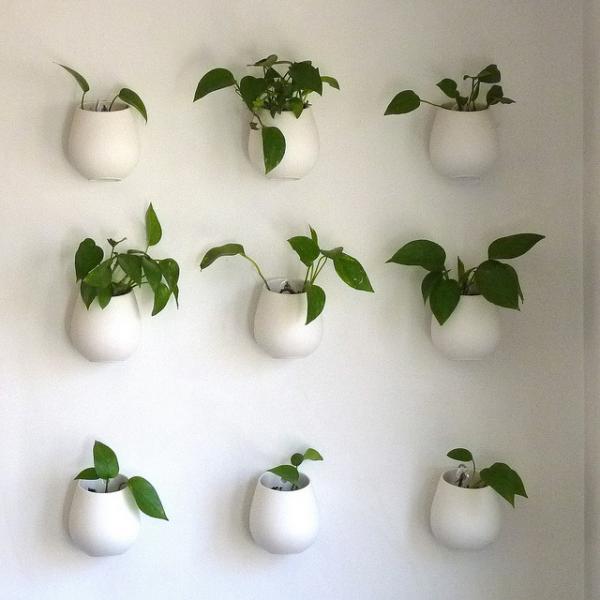 Geometric arrangement of ceramic vases, balancing and ordering space
The most landscaping option that fully fills part of the wall will look most rich and impressive. It should be noted that the Museum of Design has topics dedicated to such design.
Such exposure is easy enough to make. This requires several containers that can be installed in a niche or in beautiful frames.
However, in their organization there is a rather important point concerning the provision of ventilation and drainage system, which requires consultation with experts.
But nowadays there are completely ready-made wall kits, equipped with everything necessary. For example, in the photo below, designers offer an attractive enough option in which flowers are installed in specially prepared wooden structures that hide all the technological nuances.
Its additional advantage can be called a warm shade and beautiful texture of the material.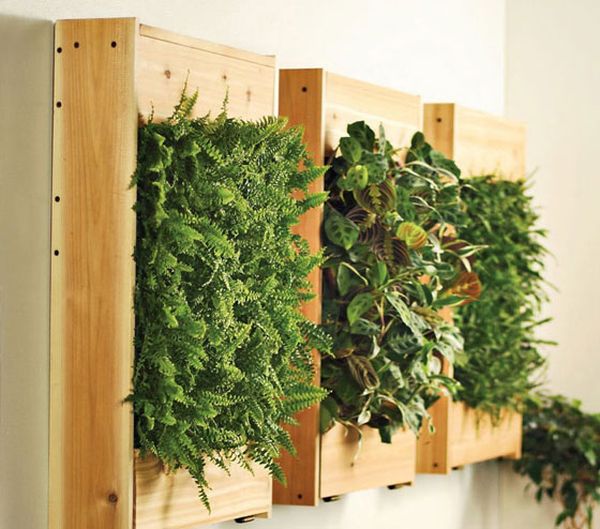 Living wall in a wooden frame, as an ecological element of decor
A fairly original version was proposed by the crafty collaborative. Its creation requires minimal financial investments, since the function of flower pots is performed by ordinary glass jars.
To make such a composition, you need to find a plank of a suitable size and think over the fastening system (for these purposes, clamps used in plumbing works can be used).
It can also be made more attractive by using a ball aquagel instead of soil. Particularly enterprising owners can arrange a home garden in it, sowing the land with unpretentious and fragrant herbs and spices.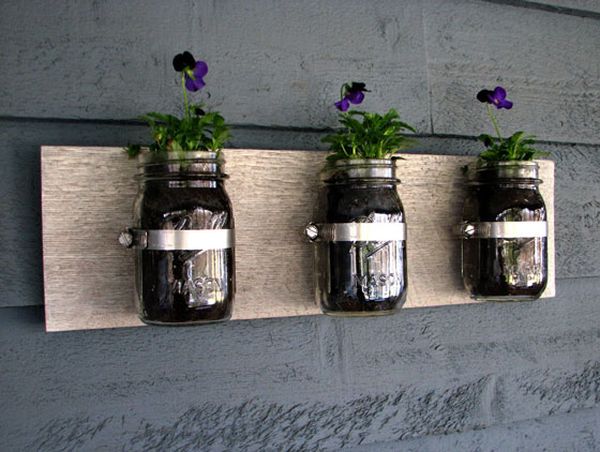 New Role of Capacities from Home Stuffs
Many designers constantly offer new ideas for a refined interior. For example, Jennifer Young (Jennifer Young) has created an amazing collection of wall-mounted ceramic vases, allowing you to create a unique hanging garden in your house.
Each of the items has its own size and original form, and their various combinations will constantly give a new amazing design option.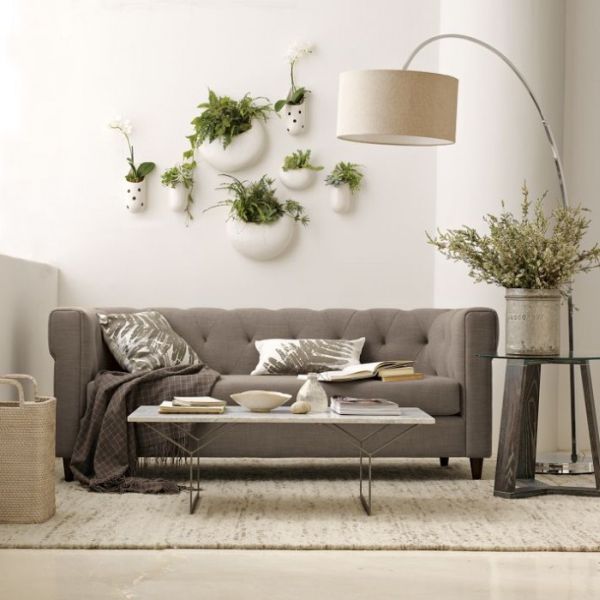 A collection of ceramic vases for home and stylish garden
No less popular material for landscaping are tree pots. And they will be especially relevant in the interiors of city apartments and houses, in which, as a rule, there are a lot of stone, concrete and glass surfaces.
Choosing wood of various varieties that have individual shades and patterns, you can make stunning warm touches to the interior and enliven the space. It must be said that such products can be easily made by hand, having contributed to the design of the premises.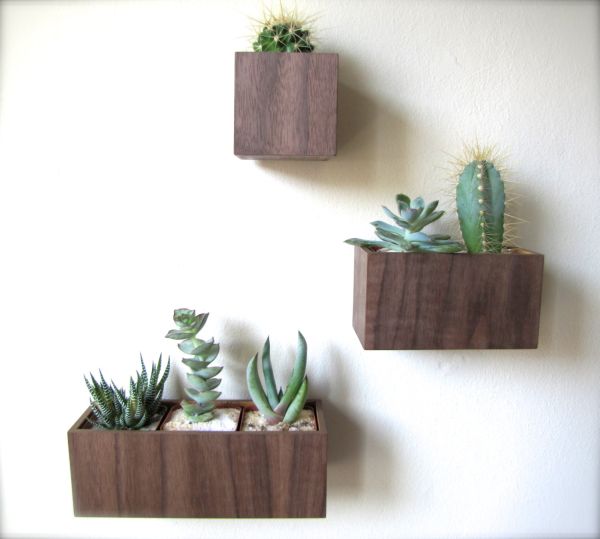 Stylish flowerpots made of beautiful walnut wood (Etsy project)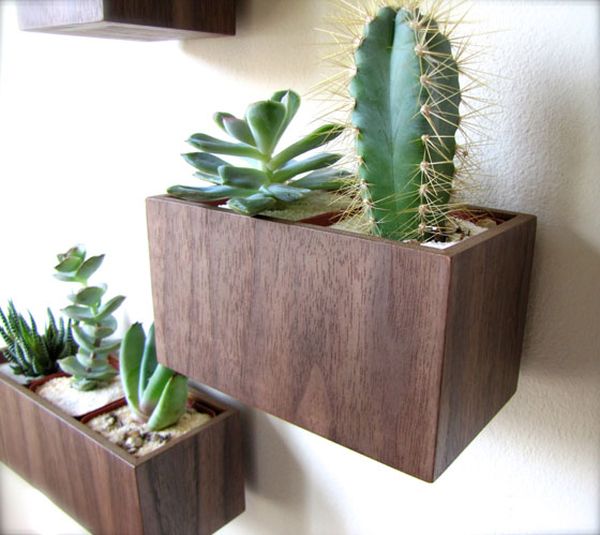 Walnut Hanging Gardens (Etsy Project)
Working on gardening at home, you can use almost any material for luxurious compositions. See how amazingly look the vases of sea creatures proposed by To Hold.
This decor will be simply indispensable in the mansions located on the shore of any reservoir, or in a room made in a maritime theme. But such products require careful handling, as any awkward movement can damage their showy natural form.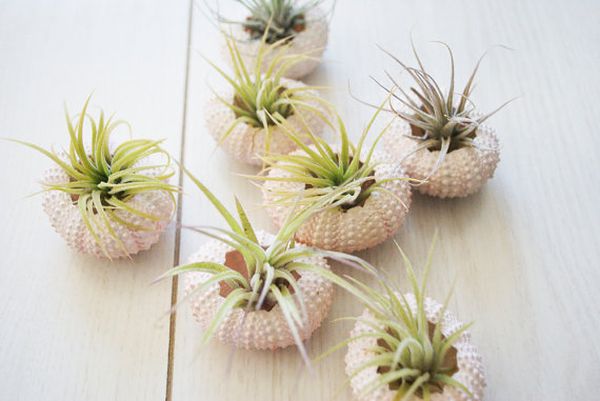 Pink shells sea urchin, as the unique elements of a home garden
Combinations of styles and shades to create hanging gardens
When creating hanging gardens, you can safely combine not only different materials, but also styles and shades of elements. The ideas underlying them are simple, but the resulting compositions look intricate and certainly beautiful.
For example, in the apartment therapy / song and dance project, designers used pots of different sizes, shades and textures, combined into a group with the help of skillfully tied ropes. But you will not feel disharmony.
On the contrary, this combination gave the room some intrigue and expressiveness.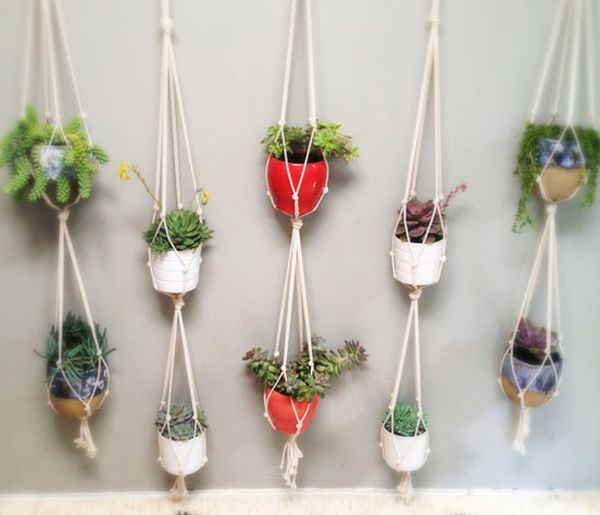 Cotton ropes and a variety of pots, as spectacular details of a home garden
In another version, the authors used ordinary transparent jars, in which beautiful stones and decorating greens were placed in layers. Openwork suspensions, made in a single technique of hemp cord, have become that base, which distracts attention from the excessive simplicity of flower pots.
This composition gave the room a certain charm, which is inherent in all elegant rooms.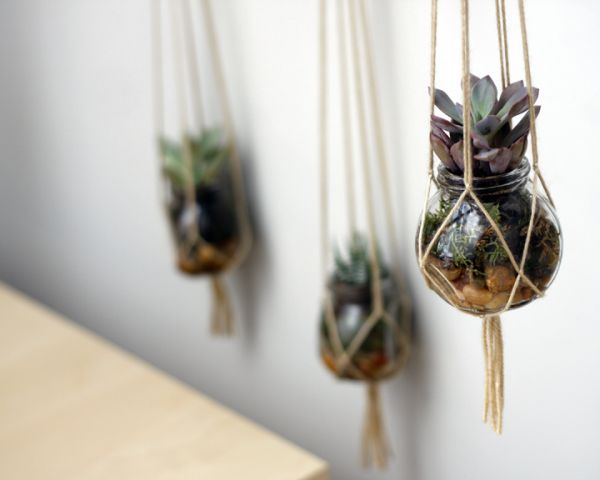 Original and stylish gardening with cans and hemp cord
And look at the amazing collection of flower vases made from the shell, designed by borokazselyke. Of course, in this case, you will need eggs of large birds, differing in extraordinary durability of the shell, or their imitation of ceramics.
The variety of shades will give the room a playful and cheerful look, and the products themselves can be an excellent thematic gift for such holidays as New Year, Christmas, Easter, as they symbolize the birth of a new life.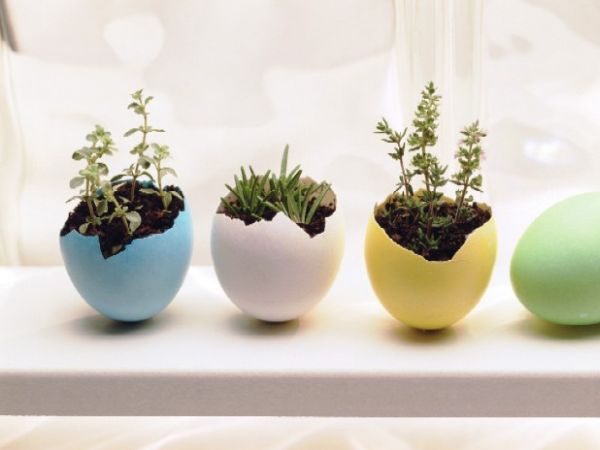 Unusual cute egg shell vases
Fans of mystics and the whole unknown will surely appreciate the amazing collection of Tend Golly Pods. These small but very attractive items that perform the function of flower pots will be the highlight of your home.
You can decorate the room with them by placing them on a coffee table and a desk or on a shelf. And you can be sure that such a stunning decor will surely become one of the topics of conversation with your guests.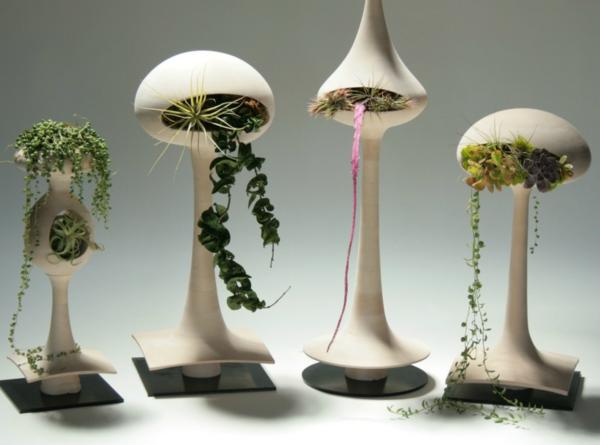 Mystical collection to revitalize the interior
The following idea will appeal to those who value aesthetically attractive things more than the ergonomics of space. To create a green decor in the room you will need large glass balls-terrariums, which will look the same effectively on long suspensions in the center of the living room and in the corner of the bedroom or kitchen.
Having chosen lush plants for them, you will effectively revive the interior, add colors to it and each time you will enjoy looking at an unusual composition.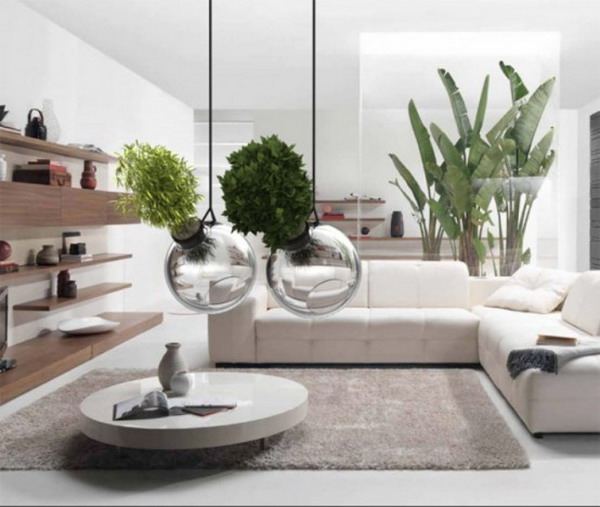 Making stylish space with hanging ball vases
Among many gardeners, there are really enthusiastic people. Someone collects a kind of collection of violets, and someone loves cacti.
By the way, the last type of flowers can often be seen in the group, since these lovely thorny plants have a rather appeasable character and invaluable useful qualities.
Particularly interesting are small specimens of these colors, which want to emphasize individuality. To do this, Matteo Cibic has created an amazing collection of Domsai Terrariums terrariums, each product of which consists of two parts: the lower one is made in the form of confidently standing legs, and the upper one in the form of a transparent cap.
At the same time, the authors offer a wide choice of forms worth $ 140 (about 4,600 rubles) for a product, so you can easily create a unique design for your favorite plants. True, not everyone can afford to collect a complete collection.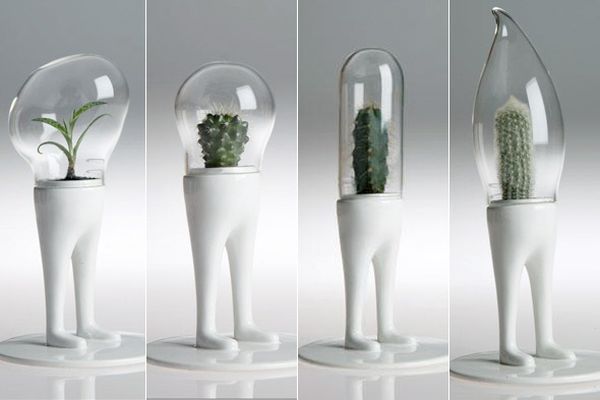 Terrariums from Matteo CIBIC, endowing cacti with a human appearance
I would like to complete the amazing review with the idea of ​​decorating not a room, but a street fence. This option will require a vase of more durable and durable material, for example, oval aluminum products that can be fixed, both on the inside and on the outside of the fence.
In this case, you can use unpretentious sowing flowers, which will please the eye only for the season, or install indoor plants in them, which at the same time will decorate the territory and gather natural energy for sustained transfer of the cold period.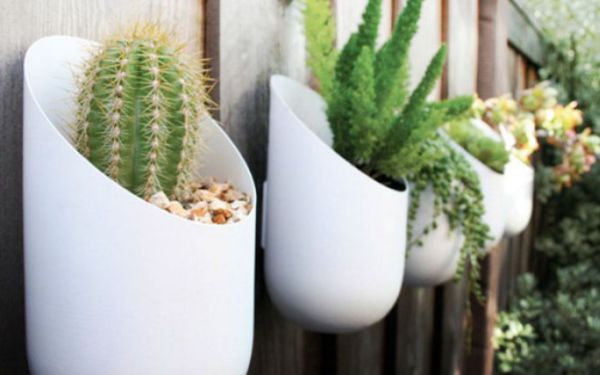 Oval pots for original and spectacular ennobling