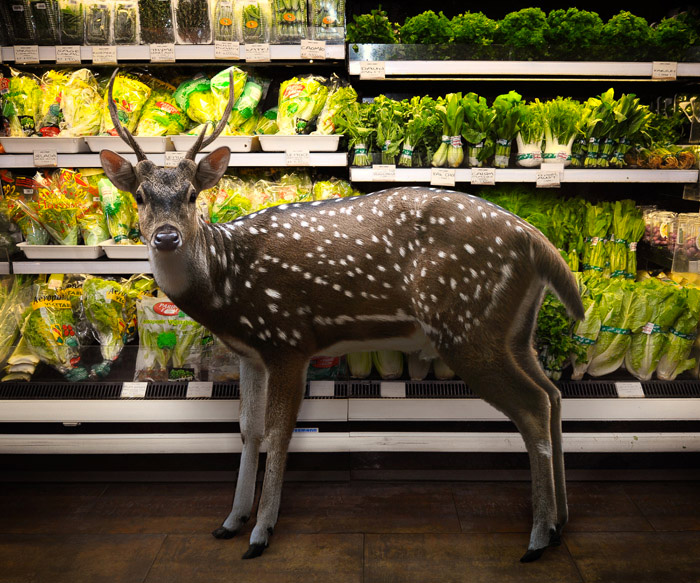 A young photographer from Indonesia and the already recognized master of Photoshop Agan Harahap created a new interesting and original project called "Garden Freshness" ("Garden Fresh").
A rather entertaining series of photographs depicts wild animals in unusual conditions – people strolling in a modern supermarket during the absence of people there.
Zebu was interested in fresh salads and bunches of greens, the pelican went on a tour of the fish department, the zebra stopped in the middle of the fruit department, and the huge tiger was interested in the assortment of the meat department.
With these photos, the author symbolizes the complex relationship between people and wild representatives of the fauna.
Regular participants of our daily discussions on various topics on the pages of the Museum of Design may be interested in the following information that Agan Kharahar was born in 1980 and is a self-taught photographer and illustrator.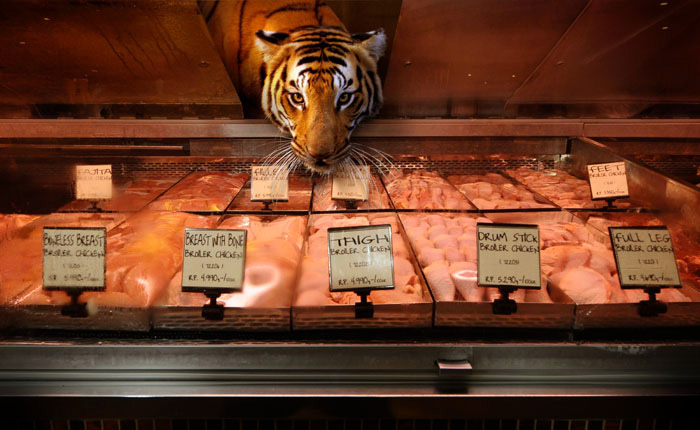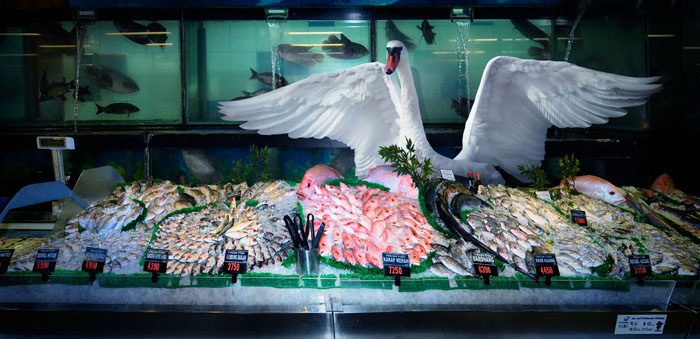 He currently works in the Indonesian music magazine TRAX and has become known in the world as the creator of a super original photo series called Modern Superheroes – Participants in Historical Events.
The brilliant young photographer made a high-quality photoshop, where in historical photographs known to any person in the world there are superheroes from modern films. At the historic meeting of the legendary troika – Stalin, Roosevelt and Churchill in Tehran, Darth Vader stands behind Stalin.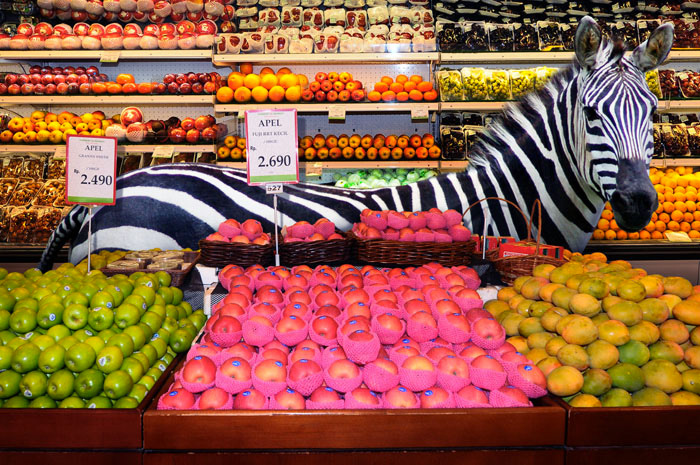 During the speech of the permanent political leader of the Republic of Cuba, Batman and many others stand behind him, as it is now fashionable to say photographic "jokes".
Garden Fresh explores the changing boundaries between people and animals in modern conditions and the rather complex interrelations between modern art and nature. Animals seem to be in the face of a new reality that is in conflict with their natural habitat.
"We are sometimes unable to help animals cope with the problems surrounding them in the modern world, but we are able to present them in unrealistic conditions. Therefore, these works are more about you and me, "said young and gifted Indonesian photographer Agan Harahap in an interview with journalists.