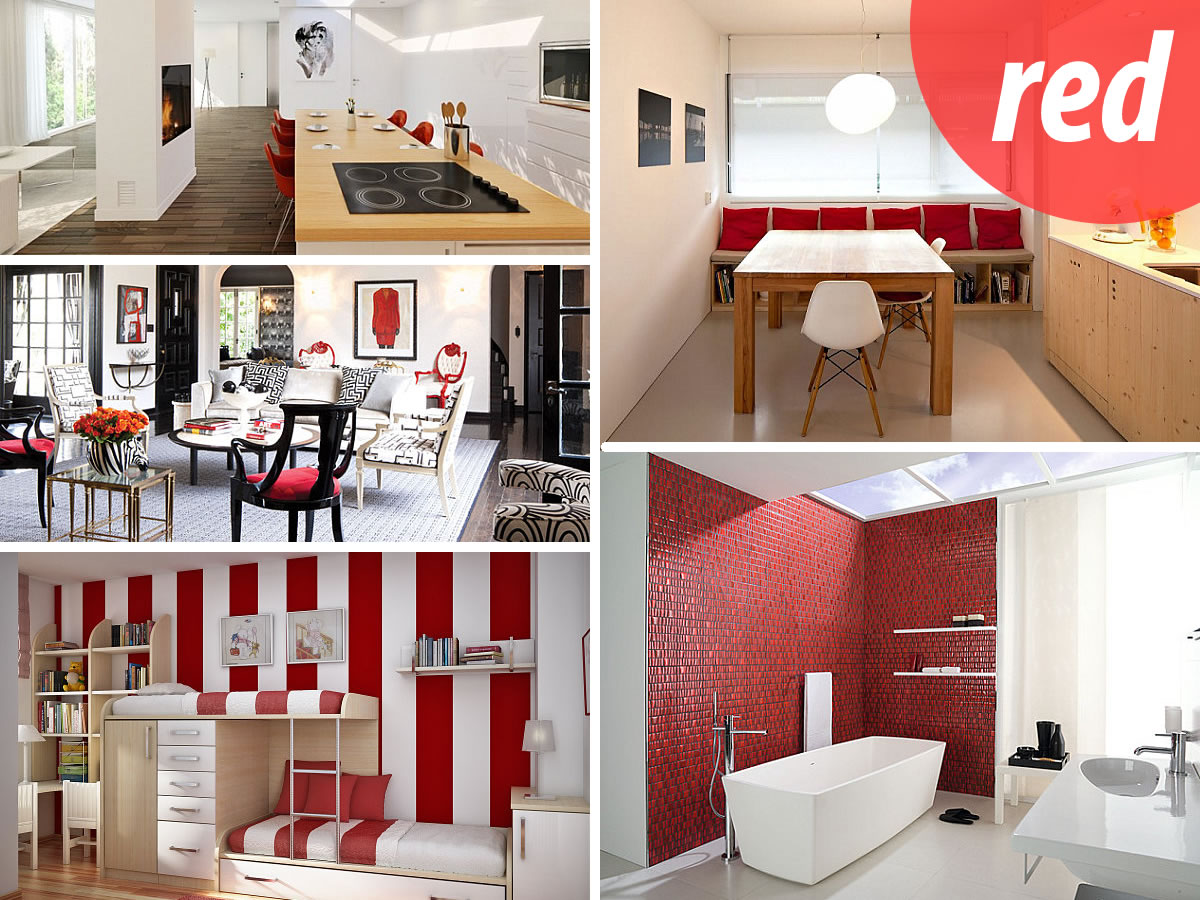 Why do so many people prefer red, especially when it comes to interior design? Probably the reason is that this is the brightest and most flashy of all existing shades.
He gives so much spice and sharpness that he says, "Hey! Pay attention to me! "Especially for those who are not afraid of bold decisions, we offer several fresh design ideas!
Do not forget that the color red has a very effective meaning. He fills a person with such emotions as love, passion and kindles a bright fire of excitement in the soul.
In addition, it has a wide range of shades: from warm brick, to a cold beet color.
Not many people dare to use it as a background, most often it acts as catchy accents or accessories. After all, it is very easy to overdo it with red, follow our advice, and you will definitely succeed!
If you want to emphasize the interior with red shades, dissolve it in the abundance of white background. He will not only smooth out his lush energy, but also in the company with black color, will give the interior clarity and elegance.
All you need is literate ART-touches, for example: furniture upholstery, a painting, a bright vase or decorative pillows. (Design by Tamara Kaye-Honey / Gray Crawford photo for California Home + Design).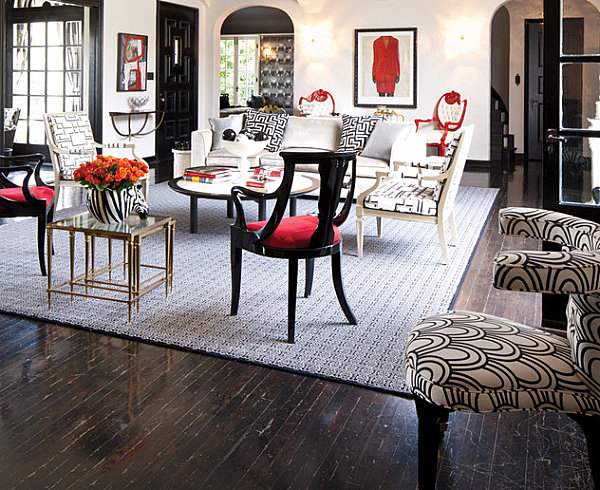 Glamorous living room in black, white and red
Here we see a bolder combination of dividing walls and furniture. The white color here only acts as a neutral background, and draws all attention to the central composition. (Project Decorativ).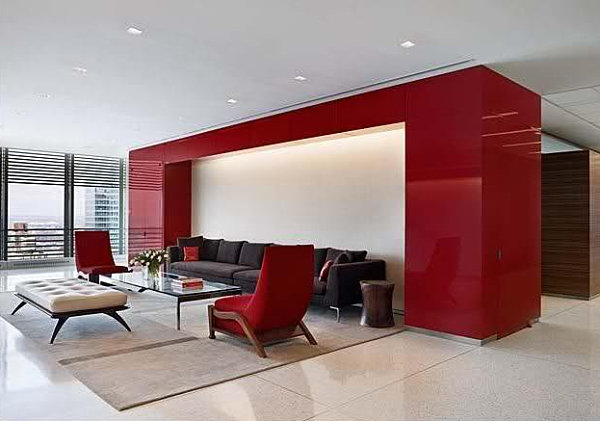 Red and white office interior
The traditional combination of "blood with milk" can give the interior antique motifs. However, modern appliances and chrome-plated stainless steel parts return the kitchen in our time. (Designed by The Ottoman Empire).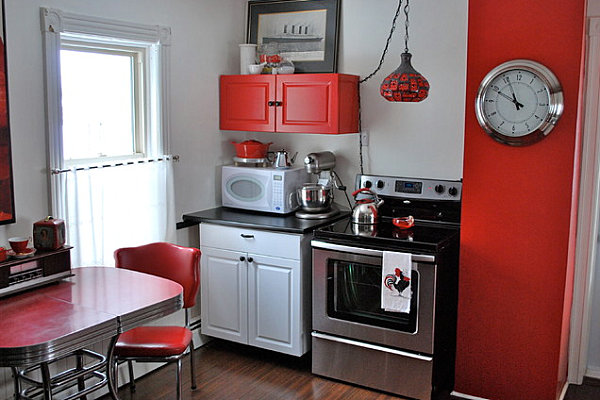 Blood Style Kitchen with Milk
Pretty unusual and daring solution for the ladies' room. Red tile creates a very interesting contrast.
But why doesn't she look so defiant? All because its rampage is held back by white walls, furniture and the floor. (Project Famosa Tile)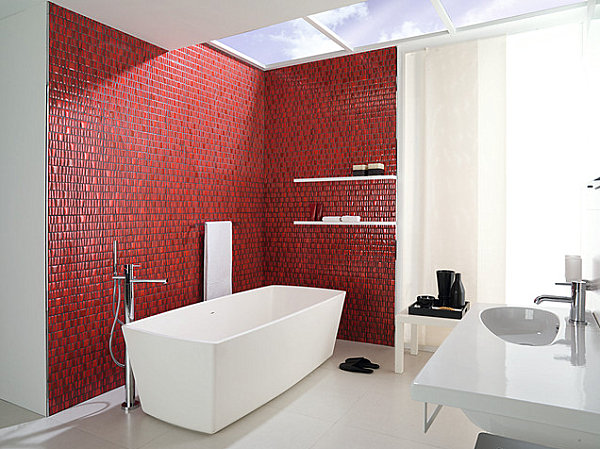 Modern bathroom in contrasting colors.
Of course! As without it!
Red color, the place in the bedroom! After all, this is a reflection of eroticism, piquancy and burning passion! And if you combine it with white, you get a combination of innocence and vice. (Homedit design)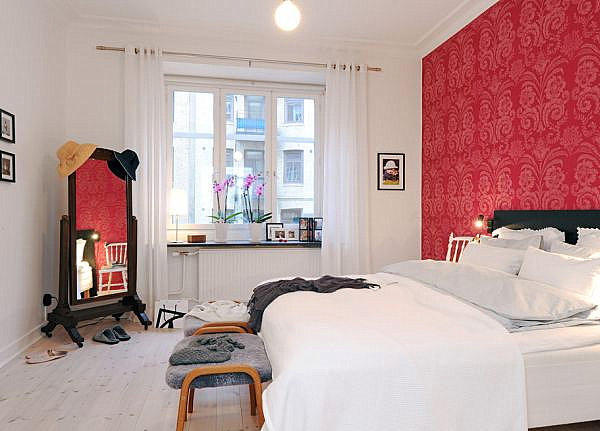 Modern bedroom with an eclectic mix of white and red
A very interesting solution for the children's room, doesn't it resemble a circus? Red and white stripes – on the one hand they look very strict and elegant, and on the other they create playful motifs.
They are as changeable as the mood of a teenager, so feel free to combine them with furniture and accessories. (Project OnArchitectureSite.com).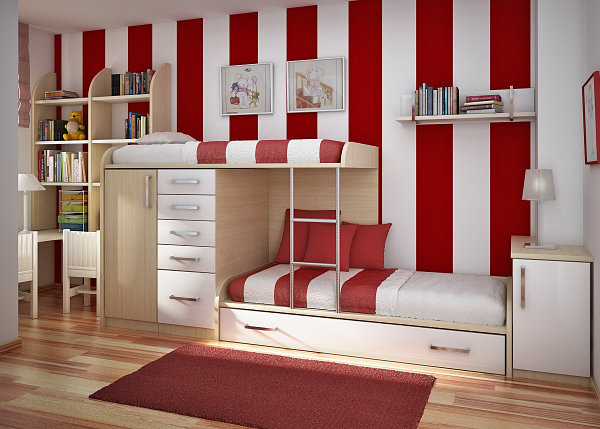 Bright children's room with circus motifs
Red color – even with the help of one small, but catchy accent, can safely declare itself. Remember the basic rule, the main thing here is not to overdo it!
Only one wall – a crazy electric color, radically changes the calm look of a delicate bathroom. (Designed by Benjamin Moore Color Chats).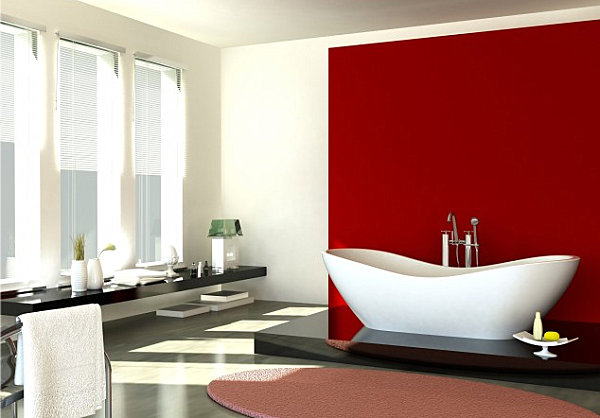 Bright accent in the bathroom
What could be more elegant and attractive than a red door? What a bright light at the end of the tunnel!
A playful round window – adds even more individuality and charm. (Project Troy Spurlin Interiors).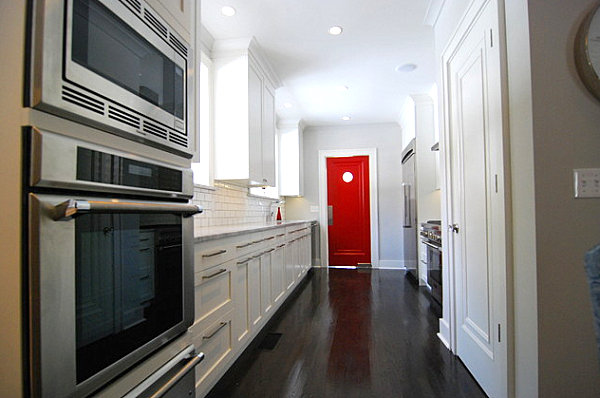 Exquisite finish of kitchen design – bright red door
And how do you like this maroon panel on the background of a brick? It looks quite unusual, but not very catchy.
Arrange color photographs there, and you will further weaken the obsession of this shade. (Design by Andrayani.com).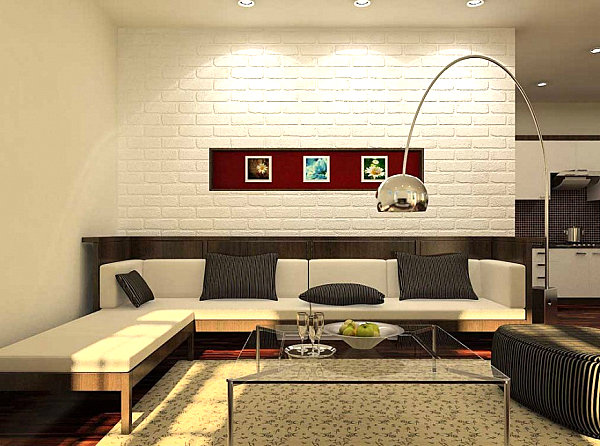 Deep burgundy accent in the living room
Have you noticed that the combination of white and red has not stopped? What can I say, because this is really the best option! We have already talked about kitchen design, but this time, the contrast is represented by just one bright touch.
How do you like these mahogany chairs? It looks not only elegant, but also very rich and tasteful. (Project Paseoner).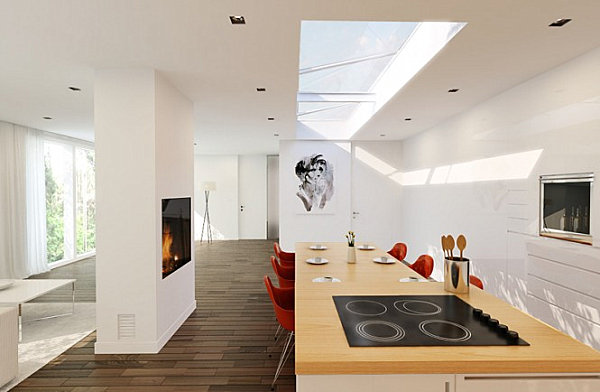 Mahogany chairs in the modern kitchen
From the chairs go to the pillows. Here is an even simpler option to diversify soft pastel design.
This color looks a little warmer on the background of wood and beige shades than in the cold snowy interior. (Iidudu design).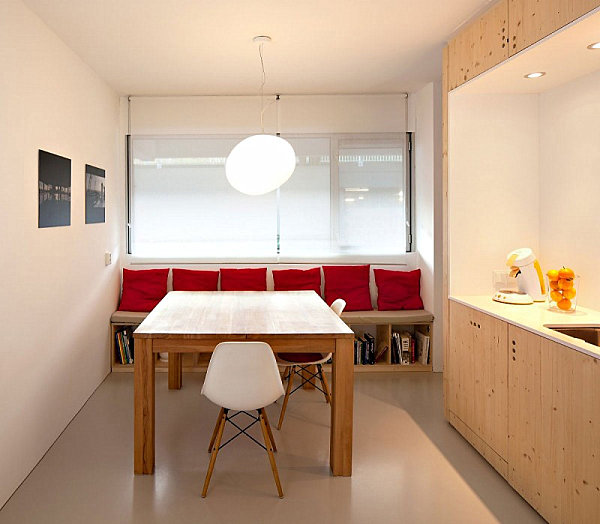 Dark brick pillows in wooden interior
Combine several close shades. Play with maroon, brick and brown. It will look very luxurious and rich, but not so bold and defiant.
Especially in combination with genuine leather and expensive varieties of wood. (Project Ajchomefinder / Trendir).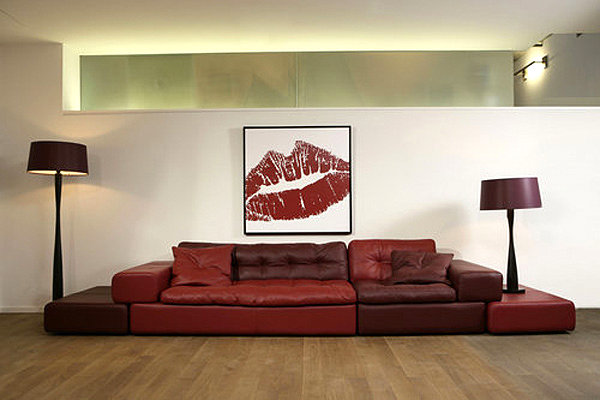 Chic living room in rich shades of red
Who said that bright colors should be combined only with neutral? Not true!
If you combine warm colors with cool colors, you can achieve an incredible result! How do you like this playful bedside table on the background of delicate turquoise? This is not only very intriguing, but also gives a touch of modern freshness. (Luxe Studio Design)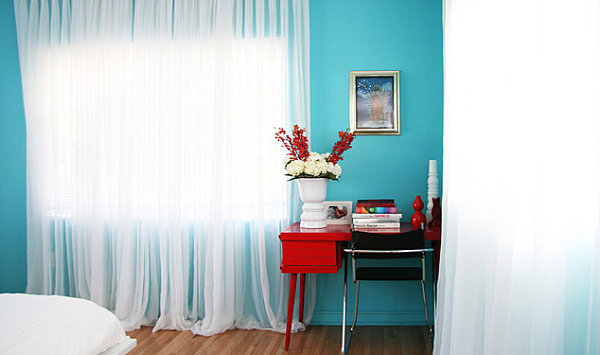 Bright red table in the blue bedroom
The red color itself is stunning, and if you make it shine? Even kings can envy such luxury!
Fill your kitchen with contemporary chic, with the sheen of metal and glossy reflections of the cabinets. (Project David Churchill Architectural Photographer).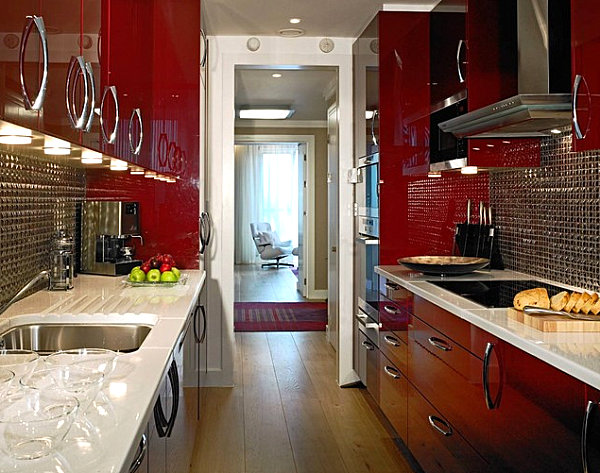 Glossy cabinets in modern kitchen
Gloss will give a very powerful accent to your interior, so you should give up the hard contrast, in this situation it is better to use one thing. A good option would be to combine it with dark gray, black or natural woody flowers and textures. (Design by Dyna Contracting).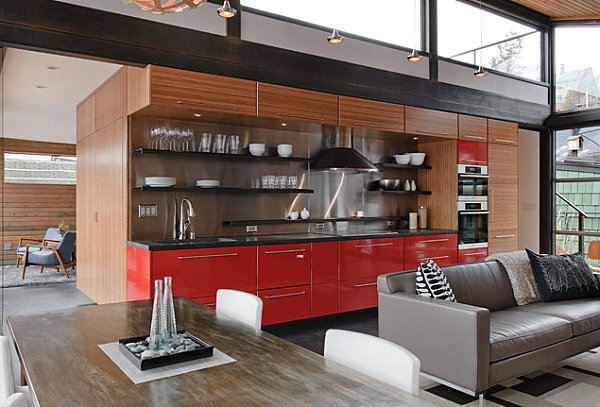 The combination of bright and woody colors in the trendy kitchen
However, if you adhere to a minimalist style – you can resort to a little contrast. But be very careful, you must "unload" the interior with simple forms, a neutral background and preferably a complete lack of decor. (Project Bhuto.com).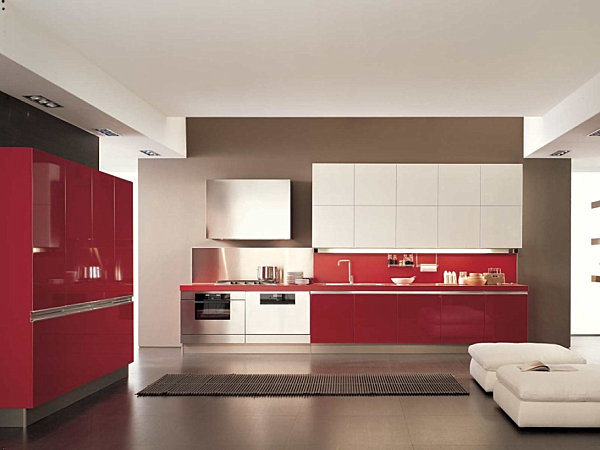 Glossy red and white kitchen in the spirit of minimalism
Again, a combination of red and wood. This idea with a working panel of vertical tiles, looks very good, and most importantly functional.
After all, bright colors are not so noticeable spots and damage. (Design by Klopf Achitecture).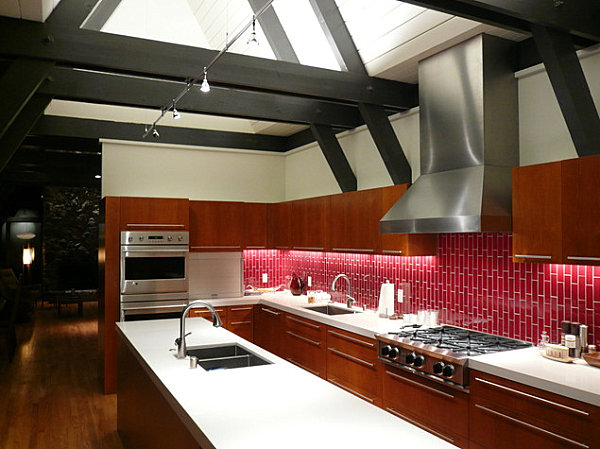 Working panel of bright glazed tiles
Who said that gloss is only on hard surfaces? But what about these chairs made of genuine leather?
In combination with shiny chrome legs, they look just amazing. (Project Nicole Lanteri / On My Agenda).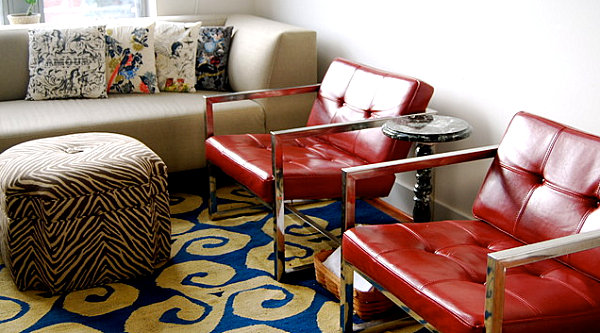 Brilliant red genuine leather chairs
Here is a good idea for your boudoir. Excellent and functional wardrobe, with bright glossy doors. (Design Harelooms Ltd.).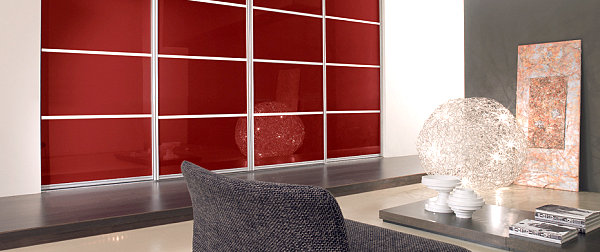 Sliding wardrobe with shiny red doors
And we finish – a great and catchy touch for your garden. Everyone is so accustomed to the standard blue and green pools, that this is no surprise.
And with the help of a bright red mosaic, you can stand out from the crowd, and make a shocking impression! (Project Da Vida Pools).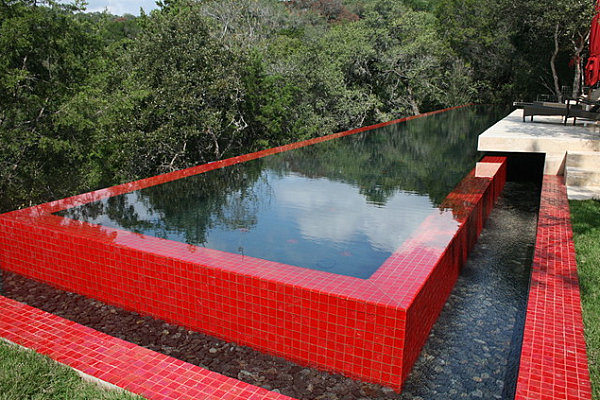 Brilliant Red Tile for Outdoor Pool
Now you tell us how you use your favorite colors in the interior! Do you decide on such experiments?
Share your ideas and thoughts in the comments!