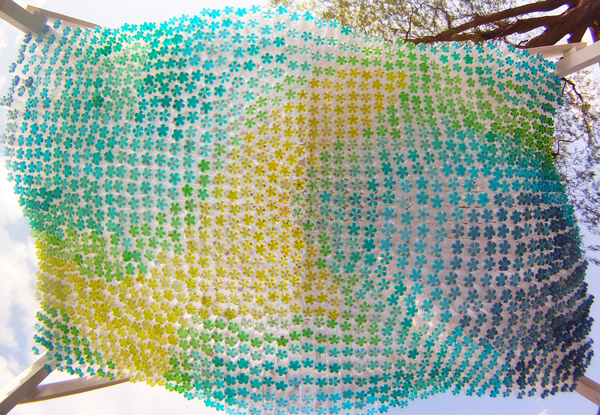 In kindergartens and elementary school there is such a form of creativity, as crafts from waste materials. Simply put, crafts from garbage, items that we usually ruthlessly throw away without thinking about their further use.
And our children, creatures creative and creative, are invited to do something useful from such things.
But this "hand-made article" amazes with its scale and unusualness. And she made a representative of the direction Street art architect, sculptor Garth Britzman, Lincoln, Nebraska, USA.
The whole structure is made in the form of a metal rack with multiple hangers to which plastic bottles are attached. Cables are different in length, which allowed the author to create a visual effect of a wavy surface.
The highlight of the design presented to your attention is that the water in the tank is pre-painted in different colors.
The bottoms of the bottles are embossed, and in shape resemble a five-leafed sheet. Thanks to this, Garth Britzman managed to create a dome, which is littered with many decorative "flowers".
The designer modeled the transitions of shades on the computer in advance, which allowed him to create a lively and elegant drawing.