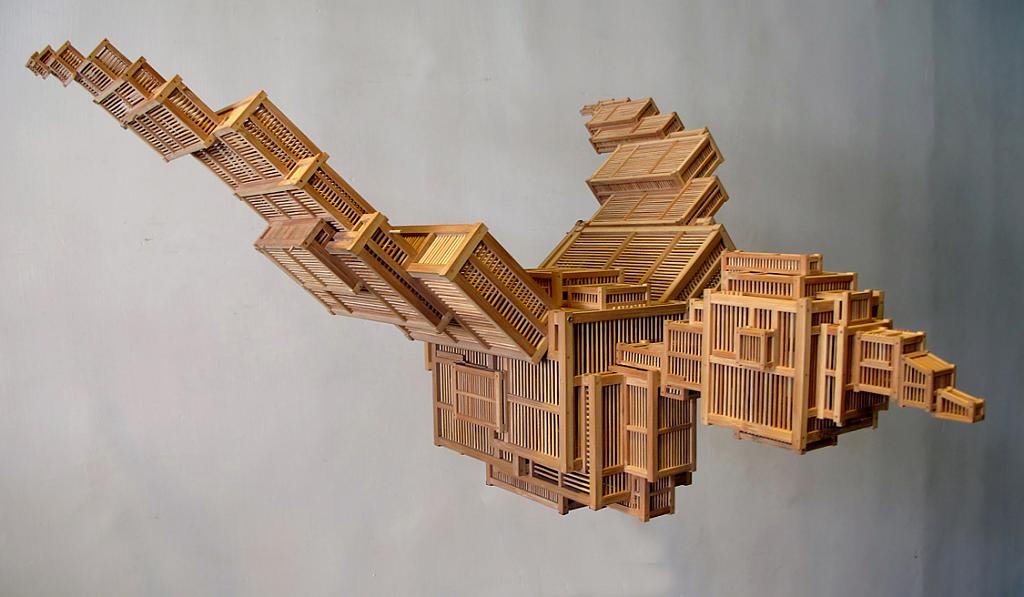 It is difficult to understand at a glance that in front of you, dear guests of the Museum of Design, the image of a bird, but it is so. The presented sculpture is made of dozens of bird cages, varying in shape and size.
Materials – bamboo, stainless steel and acrylic. She created one of the leading Hong Kong sculptors Kum Chi Keung for the exhibition The Sculptural Dimension – Contemporary Hong Kong Sculpture, held in the gallery Grotto Hong Kong.
Kum Chi Keung is a master of installations. His favorite motifs are bird cages and flying.
He uses these new ideas in design as metaphors, drawing the attention of society to the problems of life in the free trade zone, the desire for freedom, the desire to break free from the space of restrictions and the suppression of personality.
Very unusual sculpture of a bird, you will not understand right away, until you look better. And when you understand what it is made of, you begin to grasp the meaning that the author has laid.
Birds most often live in cages, and this is a clear call to break free and break free from the shackles that society connects people with.
We are glad to welcome you on our portal Design Museum! Furniture, interiors, light, decor, interior shows and famous designers are our best collection.